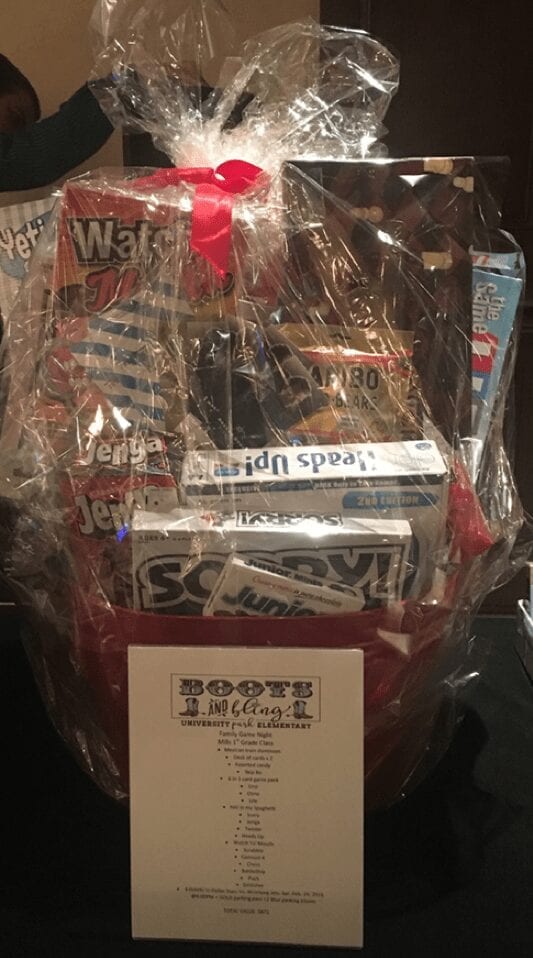 Using themed baskets in your silent auction is a great way to pull small items together to make more profitable packages to sell. Recently, a Murad Auction's client offered a variety of creative baskets.  I think these will get your creative juices flowing and help you come up with some great baskets for your next fundraiser!
Family Game Night
Take Me Out to The Ballgame
Lounging by The Pool
Road Trip
Star Wars
Each basket was filled with numerous items related to the theme.  For example, the Take Me Out to The Ballgame basket, valued at $1,000, contained the following items:
The wicker basket, which was wrapped in cellophane, was nicely displayed on a table during the silent auction.  A list of each item in the basket was displayed in a clear acrylic photo frame and placed in front of the basket.  The value of the basket was included at the bottom of the list.
The Road Trip auction basket included the following items and was valued at $250:
Two travel cups
Toy car
Travel games
Books
Several gifts cards to restaurants that are usually located along major highways that are often travelled during road trips.
They really used their creativity when they designed this auction item. Instead of a basket, they used a long box decorated to look like a road.  Props, including a toy car, a road with yellow divider stripes, miniature billboards displayed the restaurant gift cards and miniature trees along the side of the road. The other items were displayed at the end of the road, which was at the far end of the box.
For their Lounging By the Pool auction basket, they used a tote bag instead of a basket and can double as a beach bag.  After all items were added, the bag was wrapped in cellophane like the baskets. They topped it off with a pink ribbon.
When you create your baskets, place the items in the bag strategically to make sure guests can see as many of the items as possible.
Quick Tip!
If you are managing your event with mobile bidding, take photos of the baskets before you wrap them to allow guests to see the items in the basket more clearly and avoid the glare of the cellophane in the pictures.  This provides better photos for your online catalogs even if you are using bid sheets for your silent auction!
Think outside the box and have fun creating unique auction baskets that your guests will love.
For more great silent auction ideas, visit our Pinterest page.
About Murad Auctions
Murad Auctions offers professional charity auction services to non-profits for successful benefit auction events. Since 2000, Murad Auctions has helped hundreds of non-profits achieve their fundraising goals. Murad Auctions relies on years of experience, crowd-pleasing enthusiasm and technology to take benefit auctions to the next level. If your organization needs advice on your auction event, please contact Murad Auctions at 972-238-0249 x 102 or contact us. We will be happy to help make your non-profit fundraiser a success.