While some folks were trying to recover from an overdose of turkey, cranberries and stuff(ing), the second Lonestar Charity Two-Step was high-stepping the following Saturday. Here's a report from the field:
WFAA's Ron Corning was having a busy lunch week. On Tuesday, September 22, he emceed KidneyTexas Inc.'s Runway Report at Brook Hollow. With guests being greeted at the front door by event producer Jan Strimple starting at 10:30, they discovered the silent auction in the reception area.
---
The walls of the Anatole's Chantilly Ballroom were lined with world-famous handbags along with backpacks and all types of extras on Saturday, March 28. The occasion was the 10th Anniversary of Heroes for Children. But unlike years past, the annual luncheon was a nighttime seated dinner hoop-la that included an equal number of men. The hope had been to have 500 in attendance. Instead they hit the 600 mark including Gina and Ken Betts, Lori and Jerry Jones Jr., D'Andra Simmons Lock and Jeremy Lock and Brooke and Aaron Shelby.
---
The day truly proved that Dallasites love to eat. However, hardly a chef was to be found that evening. It seemed like they were all down at the Omni Dallas thanks to Lead Chef Kent Rathbun. Read more
---
For 40 years the Cattle Baron's Ball has grown funds to battle cancer. There have been years when it was so hot that skimpy cowgirl outfits seemed downright proper. And then there were the ones in which mud was the unfavored favor to take home. Regardless of the conditions, no two have been exactly the same, and chances are the ones which pitted tireless volunteers against overwhelming weather conditions proved to be the memory makers, as well as major fundraisers. Read more
---
---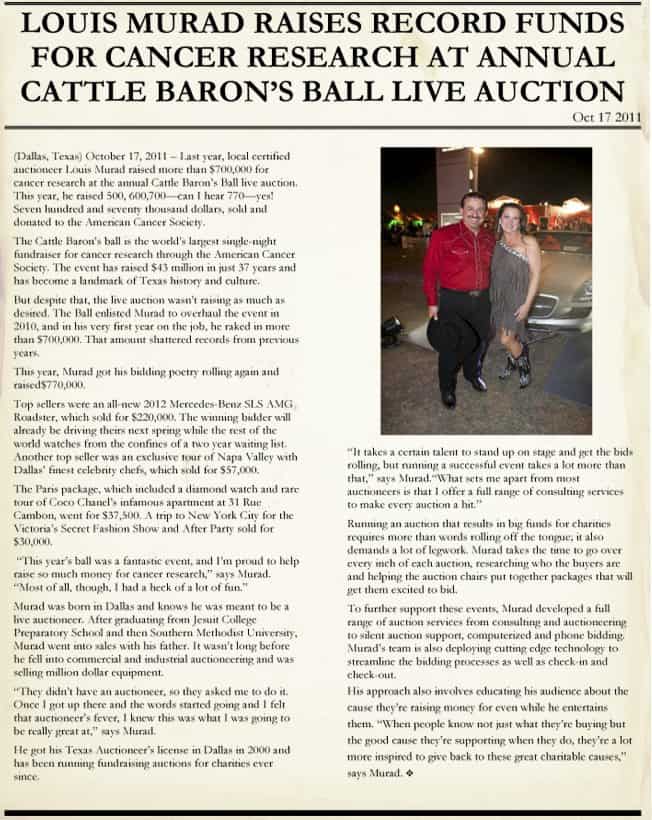 ---
Six Paige Minatrea was diagnosed at the age of four with severe A-Plastic anemia, a serious medical condition that requires a bone marrow transplant. Six Paige is now 14 years old and had her transplant at Children's Hospital on July 11th.
On Juy 8th, the Eastside Plaza Retailers and Restaurants have teamed with the Rachel's Challenge organization at Naaman Forest High School (NFHS), to conduct the Dine4Six fundraiser to help pay for some of Six Paige's medical bills. The one-night event was held with hopes to raise $5,000 and included a raffle, vendor fair, live auction, and blood drive by CarterBloodCare at the Eastside Plaza in Richardson. All proceeds that evening went towards Six Pagie's medical bills. The event was a success and raised nearly $6,000. Read more
---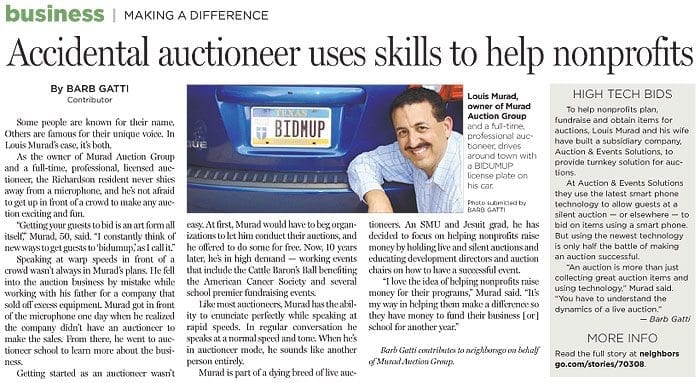 ---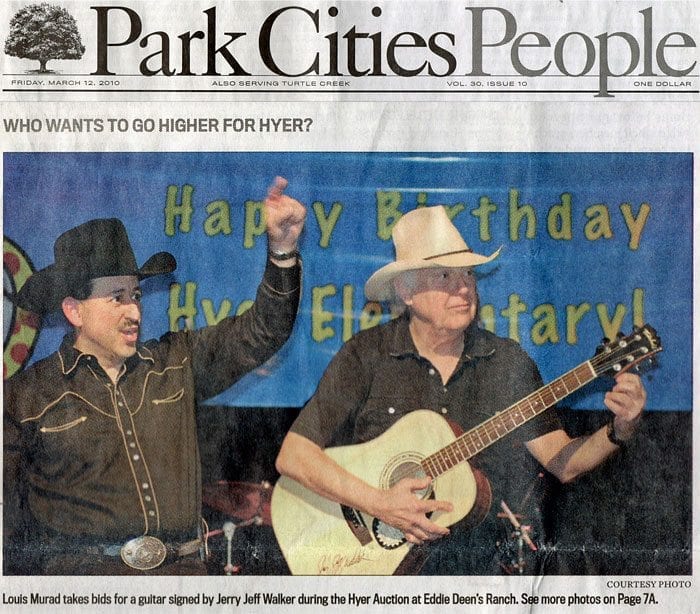 ---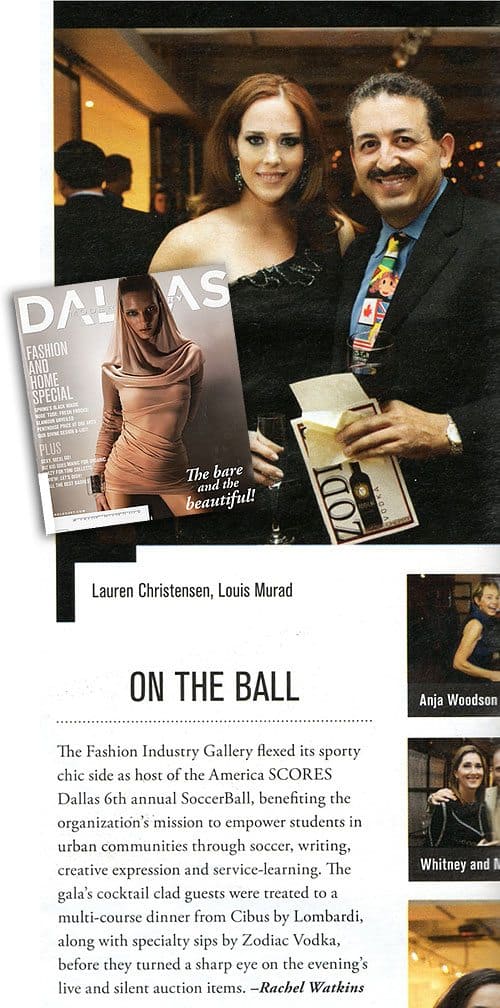 ---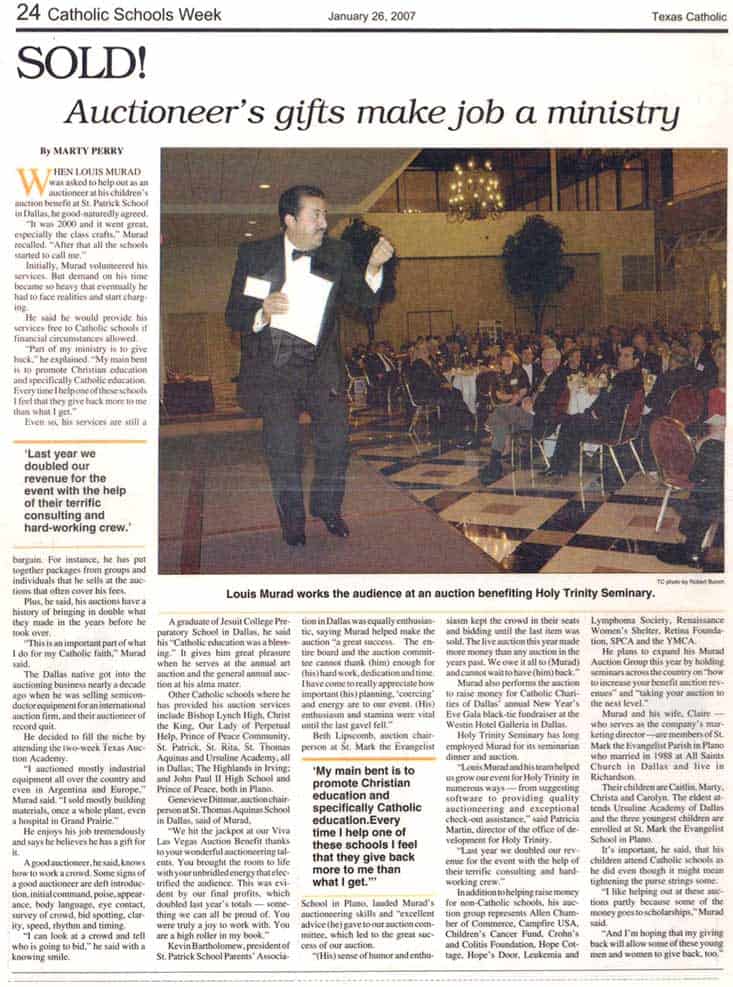 ---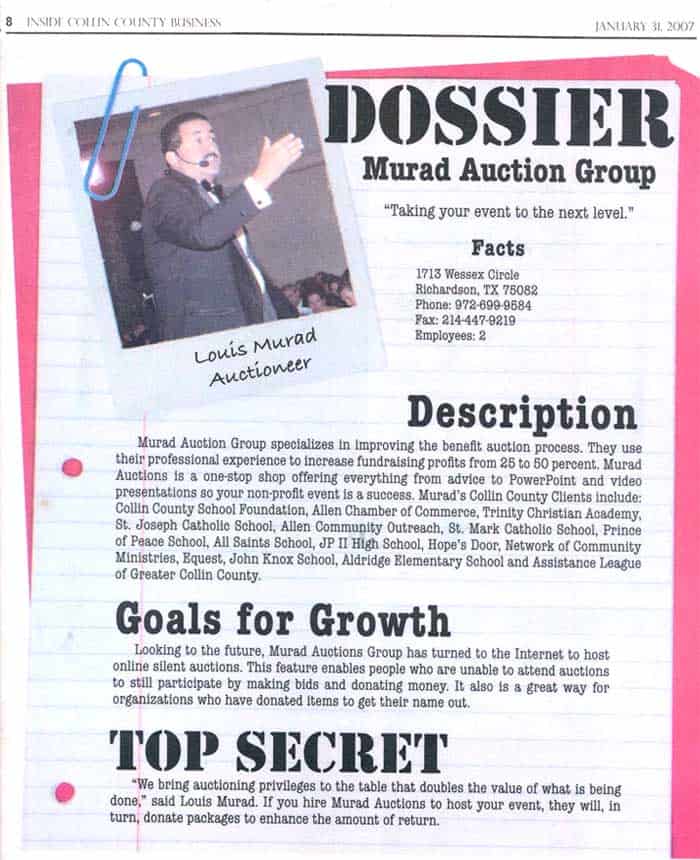 ---
Featured in: Management Resource Online Newsletter for Center Members (A publication of the Center for Nonprofit Management)
February 2007
Make Your Organization's Live Auction More Successful
An organization's live auction usually brings in between 60 - 70% of the profit for a fundraising event; making it very important for your agency to capitalize on this portion of the evening to earn maximum dollars. Below are some helpful tips from Murad Auctions about audience development and how to select the right auctioneer – two keys to a successful event!
Give all of your attendees a description of the live auction items prior to your event so they can take the time to decide which items they are interested in.
The auction chairperson and the auctioneer should know who potential high bidders are and where they are seated in the room (preferably near the front).
After everyone is seated, start with a brief emotional appeal or story relating to the agency's mission.
The best time for the live auction is during dinner when everyone is relaxed. Consider the auction the entertainment during dinner.
Use professional bid spotters to work the crowd and help the auctioneer bring in the bids. Although you will pay a fee for this service, these professionals can help make more money for your organization.
A great way to increase your profit in a live auction is to have items available which you can "double up" on. This technique creates great excitement and doubles your item income!  "We recently sold a dinner with the principal of a local private high school for $8,000.  We had four bidders vying for the dinner. We got pre-approval to sell the dinner as many times as we could, so instead of making $8,000 or even $16,000, the dinner sold four times and brought in $32,000. The auction chair was dancing in the aisle!"
It is important that your auctioneer is licensed and is a member of the National Auctioneers Association and not an amateur!
Murad Auctions, www.muradauctions.com, offers professional auctioneer services to non-profits for successful benefit auction events. Since 2000, Murad Auctions has helped more than 50 North Texas area non-profits achieve their fund raising goals. Murad Auctions relies on expertise, crowd-pleasing enthusiasm and technology to take benefit auctions to the next level. If your organization needs advice on your auction event, please contact Murad Auctions at 972-238-0249 or [email protected].  We are happy to help.