I hope you enjoy a few of our family's favorite recipes over the holidays! These are super easy and quick to prepare.  Best wishes and happy holidays!
Fruit and Spinach Salad with Honey Balsamic Vinaigrette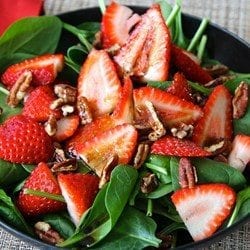 This is a great salad, with a lot of options for mixing and matching ingredients. In addition, the salad looks lovely. You can add any fruit or berry with this mix, strawberries, blueberries and raspberries are a good choice, as are blackberries in the summer. For Thanksgiving and Christmas celebrations, I like to use mandarin oranges or pomegranate seeds, or dried cranberries.
Ingredients
1 bunch fresh spinach
1 cup sliced fresh fruit
1/2 cup crumbled feta cheese
1/2 cup raw pecans or candied pecans or almonds
Dressing:
1/4 cup balsamic vinegar
2 tablespoons honey
1/2 cup olive oil
salt and ground black pepper to taste
Directions
Combine the spinach, strawberries, Gorgonzola cheese, and pecans in a large bowl.
Stir the balsamic vinegar and honey together in a bowl; slowly stream the olive oil into the mixture while whisking continuously. Season with salt and pepper. Drizzle the dressing over the salad just before serving.
If you are in a hurry, Brianna's Homestyle Blush Wine Vinaigrette dressing is delicious on this salad.
Beer Dip
This is a simple and delicious appetizer dip that is always a big hit at our family gatherings.
2 packages (8 ounces each) cream cheese, softened
1/3 cup beer or nonalcoholic beer
1 envelope ranch salad dressing mix
2 cups (8 ounces) shredded cheddar cheese
Pretzels
Directions: 1. In a large bowl, beat the cream cheese, beer and dressing mix until smooth. Stir in cheddar cheese. Serve with pretzels. Yield: 3-1/2 cups.
Sweet Pumpkin Dip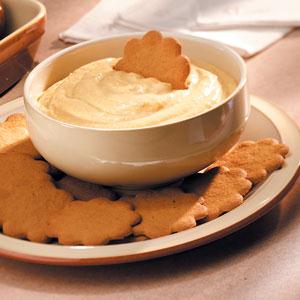 This dip in a fun appetizer for Thanksgiving, Christmas or other holiday gatherings.  It is not too sweet and is delicious served with World Market Ginger Snap cookies sold in the decorative tin.
Ingredients
1 package (8 ounces) cream cheese, softened
2 cups confectioners' sugar
1 cup canned pumpkin
1/2 cup sour cream
1 teaspoon ground cinnamon
1 teaspoon pumpkin pie spice
1/2 teaspoon ground ginger
Gingersnap cookies
Directions In a large bowl, beat cream cheese and confectioners' sugar until smooth. Beat in the pumpkin, sour cream, cinnamon, pumpkin pie spice and ginger until blended. Serve with gingersnaps. Refrigerate leftovers. Yield: 4 cups.
This also makes a nice hostess gift.  I buy a tin of cookies, mix up the spices in a small Ziploc bag, grab a can of Pureed Pumpkin and wrap it up in a gift bag with the recipe.