A Birthday Party Auction Gala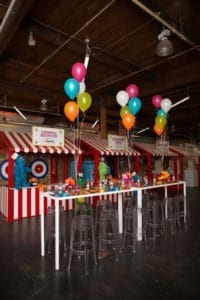 Alzheimer's Association of North Central Texas held their 10
th
Birthday Celebration Auction on Thursday night in Fort Worth. Their theme created the opportunity to use relatively inexpensive fun decorations to make a festive impression on guests as they arrived for the event. Birthday cake shaped piñata's, balloon displays and brightly wrapped packages were the table centerpieces at the event. Brightly colored cloth napkins added to the table décor.
Instead of a wine pull this year, they decided to play up the birthday party theme and offer mystery boxes that looked like birthday packages for $50 each. Inside each box were gift cards valued at least $25. Some boxes had $50 in gift cards, others up to $100 to $250. Guests purchased a box and opened them to see what they won. In addition, each guest purchasing a box was entered into a drawing for an IPad. Every mystery box purchaser was a winner!
The IPad winner was announced before the live auction. What a great way to get the guests excited before our auctioneer, Louis Murad began the sale of their fabulous items, including a safari and two fabulous trips to Belize!
www.muradauctions.com
.
After the live auction, the band took the stage to entertain guests as they bid from our touchpad computerized screens managed by Auction & Event Solutions during the last 30 minutes of the silent auction. There was no need to miss out on the fun. Guests could bid from their tables using our wireless computers. As soon as the auction ended, the computers tabulated the winners and check out was open 3 minutes later.
www.aesauctions.com
.
It was a great evening! Thanks to the Alzheimer's Association for allowing us to be a part of this event again this year!
Share your ideas! Click here, Like us on Facebook and post on our wall to share how you made a fundraising event successful or saw a great idea at an event you recently attended! We will choose one idea a month to showcase on our Blog and if yours is chosen, we will send you a gift card as a thank you!