Event Night Survival: Orchestrating a Flawless Checkout Part 2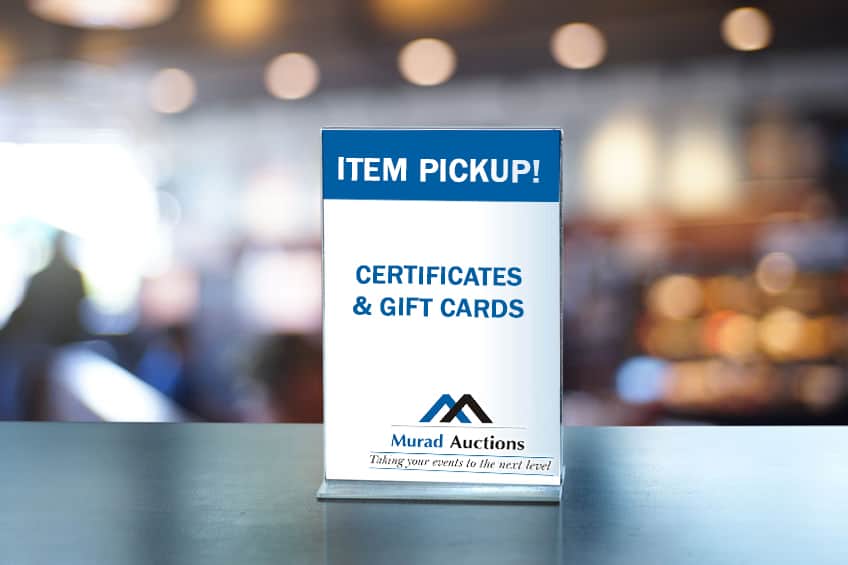 After the final bid has been placed, and the guests are ready to go home, you may think you have finished your event. But, one of the most important parts of the evening is just beginning--checkout. Follow these tips to ensure that your checkout runs as smoothly as possible! Over the next few weeks, we will be explaining different ways you can manage checkout to facilitate an efficient and streamlined process for your guests.
Next, read the second of our five-part series on checkout strategies for an effective and successful event:
Strategy #2 Certificate Box & Tables
Method:
Guests check out on their phones or come to the checkout desk and are emailed a receipt or get a pick-up slip outlining the items they have purchased and have won in the auction.
Before the event, all gift cards and gift certificates should be placed in a 9 x 12 envelope and labelled with the package number and the name of the item in the top right hand corner. These should be placed in a box in an upright position to make it easy to see the labels on each envelope.  A responsible person who is familiar with the silent auction items should be in charge of distributing these envelopes to guests.
After checking out, guests go to the certificate box in the silent auction area to retrieve their certificates and gift cards.
Next, guests proceed to the silent auction tables to retrieve physical items from a volunteer. The volunteers can view guest receipts on guest phones, use iPads with our checkout software, or pick up slips from our checkout desk to confirm guest purchases and distribute packages accurately.
Best Practice for Distribution
Block off silent auction tables with stanchions or close the room and have runners retrieve items for guests
If this is impossible, place volunteers at each table to give packages to guests
Placing packages in package number order on the silent auction tables will help pickup
Labeling silent auction tables with category and package number range is helpful (200's Children) 
Advantages & Disadvantages:
The auction can be closed after dinner if using mobile bidding
No need to move items
All items are placed on the silent auction tables in package number order and are easy to find
Table monitors can show guests where items are and help them retrieve their items
Disadvantage: This strategy can be stressful for volunteers who are tired at the end of the night.  (Try asking a fresh set of volunteers to come to the event at 8 or 9 pm to help instead of using the volunteers who arrived earlier in the afternoon)