Fundraising Event Tips For Checkout Part 2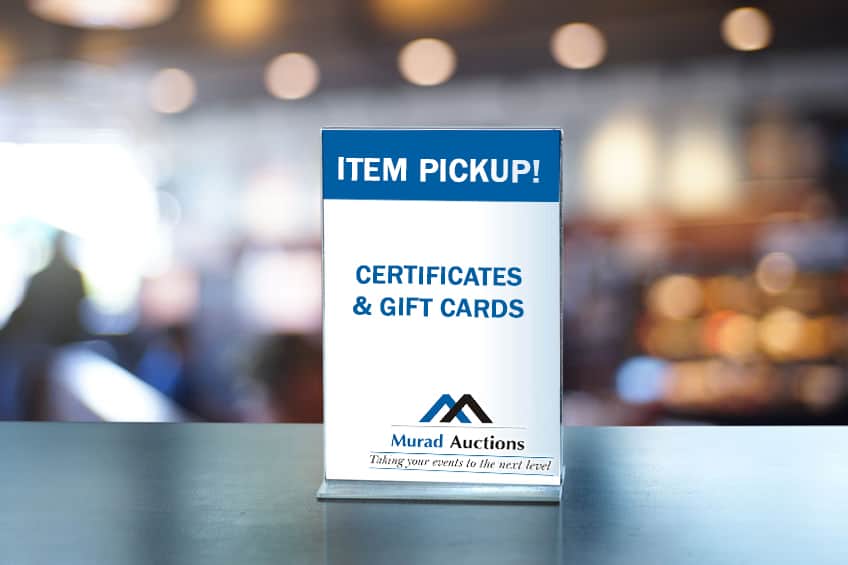 The fundraising event tips in this blog will focus on how to use a certificate box and tables to help your checkout run as smoothly as possible. This blog is the second in a 5-part series focusing on how to have a flawless checkout for your guests. Read part 1.
Fundraising Event Tip #2: Use Certificate Box & Tables During Checkout
Advantages Of This Fundraising Event Checkout Tip
The auction can be closed after dinner if using mobile bidding
No need to move items
All items are placed on the silent auction tables in package number order and are easy to find
Table monitors can show guests where items are and help them retrieve their items
Disadvantage Of This Fundraising Event Checkout Tip
This strategy can be stressful for volunteers who are tired at the end of the night. To solve this issue, try asking a fresh set of volunteers to come to the event at 8 or 9 p.m. to help instead of using the volunteers who arrived earlier in the afternoon.
About Murad Auctions
Murad Auctions offers professional auction services for successful nonprofit fundraising events. Since 2000, Murad Auctions has helped hundreds of non-profits achieve their fundraising goals. Murad Auctions relies on years of experience, crowd-pleasing enthusiasm and technology to take benefit auctions to the next level.
If your organization needs ideas or help with your nonprofit fundraising, please reach out to Murad Auctions at 972-238-0249 x 102 or contact us. We will be happy to help make your non-profit fundraiser a success.