Fundraising Event Tips For Checkout Part 3
A great fundraising event tip for a flawless checkout is to set up a security checkpoint. This blog is the third in a 4-part series outlining how to have a seamless, streamlined checkout process for your guests.
Read part 4 in this series.
Fundraising Event Tip #3: Set Up A Security Checkpoint At Checkout
The week before your fundraising event, prepare the security checkpoint box. By opening your online auction a few days before your event, you can finalize your items included in your auction and prepare your box for item distribution.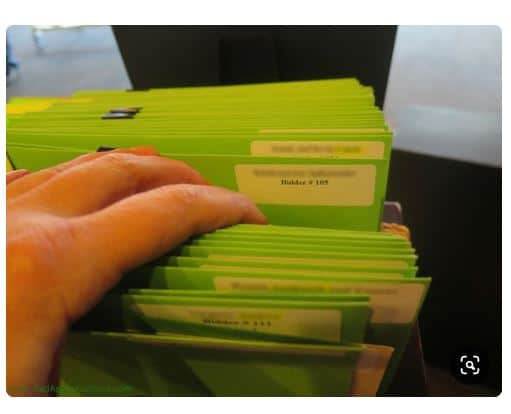 Gift certificates and gift cards are placed in 9x12 envelopes and labeled with package number and name on top corner.

A display sheet with photo is printed for each physical item.

All envelopes and sheets are placed in file boxes in package number order.
Advantages And Disadvantages For This Fundraising Event Checkout Tip
Guests come to the checkpoint area and receive their envelope containing certificates or gift cards, and a display sheet for each physical item. These display sheets are taken to the silent auction tables and a volunteer matches the picture on the sheet to the physical item and easily finds the item for the guest. 
It is important to have all packages displayed in their appropriate section and the sections should be marked by signage. This makes it easy for the guests to remember where to find their items. With Mobile Bidding, the guests are not always aware of where their items are located, since they are bidding on their phones!
Advantages And Disadvantages For This Fundraising Event Checkout Tip
It gives you security and knowledge of what is unsold, sold, and not picked up.
Volunteers know which physical items to give guests.
There is no need to move items.
The auction can be closed after dinner, if using mobile bidding.
This blog is the third in a 4-part series about how to have a flawless fundraising event checkout for your guests. Read part 4 in this series.
About Murad Auctions
Murad Auctions offers professional auction services for successful nonprofit fundraising events. Since 2000, Murad Auctions has helped hundreds of non-profits achieve their fundraising goals. Murad Auctions relies on years of experience, crowd-pleasing enthusiasm and technology to take benefit auctions to the next level.
If your organization needs ideas or help with your nonprofit fundraising, please reach out to Murad Auctions at 972-238-0249 x 102 or contact us. We will be happy to help make your non-profit fundraiser a success.