Fundraising Idea: Tiffany's Mystery Box Game
When you are creative and add some mystery to a fundraising idea, it will get a lot more attention and interest from attendees, which can result in raising more money for your non-profit organization.
A great example is a Tiffany's Mystery Box game, which an organization included in a recent fundraising event.
Who wouldn't want an item from Tiffany's? Guests will be intrigued about what they could possibly win for themselves or someone special.  Guests will be willing to try their luck to win an item from this famous, luxury jewelry store.
How to Organize a Tiffany's Mystery Box Fundraising Idea
Place blue Tiffany's boxes in a clear case and secure it with a lock.  Sell keys for $30 each. Have lots of keys available, but make sure only ¼ of the keys open the case to allow guests to pick a blue box containing an item from Tiffany's.
If you want more information about how to incorporate a Tiffany's Mystery Box or other type of fundraising idea in your next event, contact us at (972) 238-0249 or visit our website.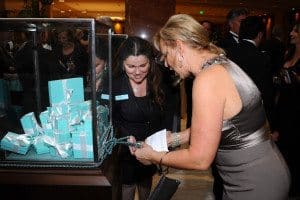 About Murad Auctions
As professional charity auctioneers, Murad Auctions organizes and manages successful, profitable fundraising auctions for non-profit organizations in Dallas, Fort Worth and other cities across the U.S. We use our expertise, knowledge of the auction industry, new and creative fundraising ideas, and our effective and efficient procedures to host auctions that are so effective they often break records and exceed goals. We offer a variety of auction services to help make charity fundraisers successful, including live auctions, bid spotters, auction consulting, registration services, silent auction set up, auction solicitation services, and professional event planning.