Fundraising Raffle Idea Using Guests' Contact Cards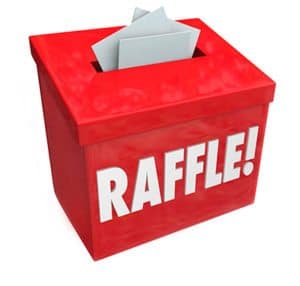 Here's a fundraising raffle idea using guests' contact cards. At events, it is sometimes very difficult to get the names and, more importantly, the contact information of guests at sponsor tables. We often collect the guests' information at the check in desk before the auction, but this can keep the line from moving quickly at registration. Margaret Palmer from Margaret Palmer Jewelry shared a great idea about how to collect current contact information from your guests in an efficient and fun way. She suggests holding a mini raffle at the beginning of dinner using the guests' contact cards.
How To Implement Fundraising Raffle Idea Using Guests' Contact Cards
Make sure each guest has a contact information card at their place at the dinner table or at the center of the table. The MC or auctioneer simply asks all the guests to fill out their cards before dinner. The volunteers collect the cards and enter them into the drawing for a prize.  At one event, Margaret donated a beautiful necklace from Margaret Palmer Jewelry for the drawing.  She got great business exposure for her donation, the nonprofit got updated guest information to grow their database, check in ran swiftly, and someone in the audience won a wonderful piece of jewelry.  This all happened before the live auction began, which captured the audience's attention. Excitement ran high as the live auction began!
Share your ideas!  Click here, Like us on Facebook and post on our wall to share how you made a fundraising event successful or if you saw a great idea at an event you recently attended!  We will choose one idea a month to showcase on our blog. If yours is chosen, we will send you a gift card as a thank you!
About Murad Auctions
As professional charity auctioneers, Murad Auctions organizes and manages successful, profitable fundraising auctions for non-profit organizations in Dallas, Fort Worth and other cities across the U.S. We use our expertise, knowledge of the auction industry, new and creative fundraising ideas, and our effective and efficient procedures to host auctions that are so effective they often break records and exceed goals. We offer a variety of auction services to help make charity fundraisers successful, including live auctions, bid spotters, auction consulting, registration services, silent auction set up, auction solicitation services, and professional event planning.