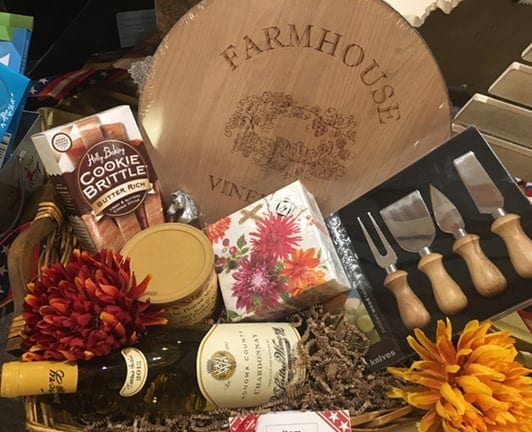 Need a fundraiser idea? Try themed baskets. They're creative and versatile and will appeal to a variety of interests. In addition, baskets help you pull together several small auction item donations to create a larger, more profitable auction package to sell at your event!
To plan themed baskets, select items for baskets based on the themes you choose. Here are several ideas:
Basket For Wine Lovers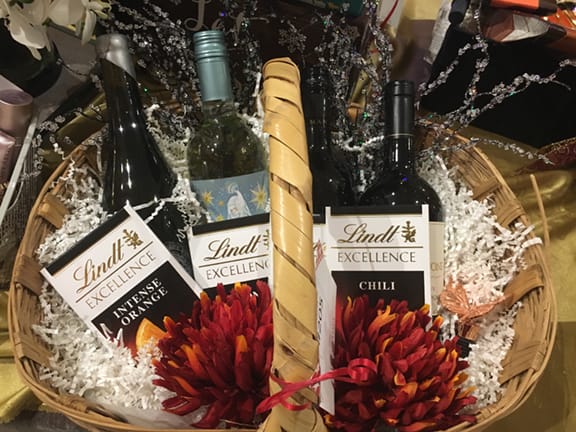 Fill baskets with several bottles of wine.  You may want to include one type of each wine—red, white, dessert, etc.  Add several types of quality chocolates that pair well with the wines you selected.  If you are not sure which chocolates to include, check with a wine shop to get suggestions.  Wine glasses, corkscrew, small home décor wine signs, wine pairing information sheet and a gift card to a wine shop are other great options for this basket.
 Basket For Craft Beer Lovers
For this theme, add a variety of craft beers, root beer (for fun), containers of delicious nuts, beer mugs, bottle opener, and a gift card to a craft beer store.
Outdoor Grilling Basket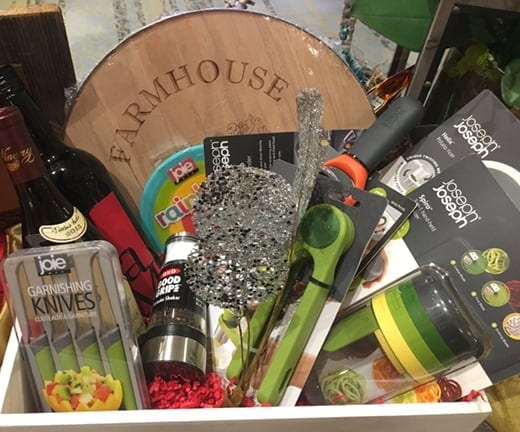 In this basket, include a gift card to a great butcher shop or to Omaha Steaks. Additional items can include: meat thermometer, grilling utensils, cutting board, knives, grilling rubs and seasonings, white wine and red wine, craft beer, specialty drinks, napkins, eating utensils and plates.
Game Night Basket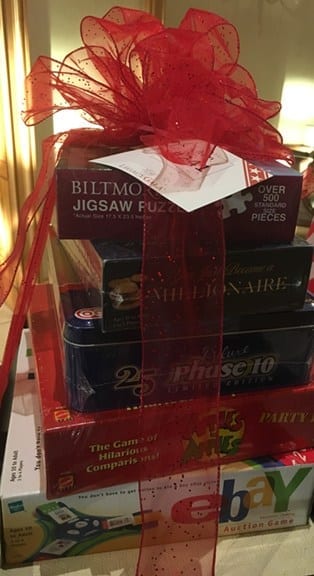 Fill this basket with several types of card games, dice games and other types of small games. You can also add bags of popcorn, popcorn seasonings, nuts, specialty soft drinks and a gift card to local pizza shop. If you can't find enough small games, you can opt to buy several board games in a variety of sizes.  Stack them starting with the largest games on the bottom and end with the smallest games on the top.  Tie the games together with a beautiful ribbon.
Ideas For Types of Baskets To Use
Select baskets that work well with your theme.  It's also a great idea to choose baskets that can be used later for home décor or storage. Some basket examples include:
Wicker baskets and other types of woven baskets in a variety of colors and styles
Decorative suitcases
Decorative wooden boxes
Decorative storage boxes
Metal containers—tubs, etc.
Foldable cloth storage boxes
Baby diaper caddy organizer
Cooler or grill
Baby Pool
Metal Colander
Galvanized Bucket
Tote Bag
Basket Filler Ideas
To add color to your basket and to fill in gaps, use some type of filler, such as:
Shredded crinkle paper (available in a variety of colors
Shredded paper (available in a variety of colors)
Shredded tissue paper (available in a variety of colors)
Tissue paper (make sure it doesn't block the view of items in the basket)
Shredded raffia
Small greenery
Small silk flowers
Colorful fabric that covers the bottom of the basket and slightly drapes over the sides of the basket
How to Organize Basket
Organize the basket so that all the items are visible to guests.  If necessary, you can stack some items, but make sure the item on the bottom is still visible. If possible, avoid adding cellophane wrap until the picture is taken for the online or mobile bidding catalog, because the reflection makes it difficult to take good photos of your baskets and makes it difficult to see some items.
For more fundraiser basket ideas, read our blog Themed Baskets Are Great Silent Auction Ideas
About Murad Auctions
Murad Auctions offers professional charity auction services to non-profits for successful benefit auction events. Since 2000, Murad Auctions has helped hundreds of non-profits achieve their fundraising goals. Murad Auctions relies on years of experience, crowd-pleasing enthusiasm and technology to take benefit auctions to the next level. If your organization needs advice on your auction event, please contact Murad Auctions at 972-238-0249 x 102 or contact us. We will be happy to help make your non-profit fundraiser a success.