Sign Up Parties For Grown-Ups Are Popular School Fundraisers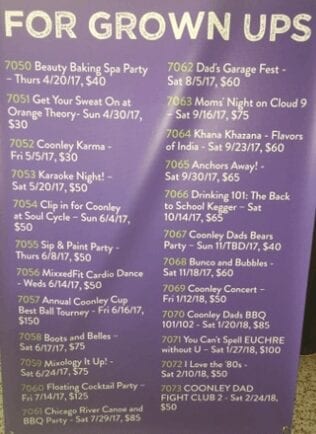 Sign up parties for grown-ups provide opportunities to host school fundraisers that focus on a variety of interest, hobbies, themes and activities that will appeal to adults. Parents, restaurants or event venues host parties that are open to a limited number of guests.
Many of these types of parties can be scheduled throughout the year. The price to attend the parties tends to range from $25 to $150 per person, depending on the activities. Many of the parties offer opportunities to solicit sponsors from restaurants and event venues. If possible, schedule the parties on Friday or Saturday. To help promote the fundraiser, provide a calendar listing all the scheduled grown-up parties, including date, time, location, price and a description.
The following is a calendar for grown-up parties from a recent school fundraiser. This information is a great source to use to brainstorm ideas and plan your school fundraiser grown-up parties.
In the next blog, we will share ideas for school fundraiser parties for kids. We will wrap up this series with ideas for family-oriented school fundraiser parties.
Beauty Baking Spa Party
At this fun MNO you'll learn hands-on about different types of ingredients for bath soaks and body scrubs. Blend your own bath soak or scrub with provided ingredients and tools and take it home! Learn the basics of natural perfumery and scent your creations with a selection of over 20 different essential oils. This is a casual event, so you can mingle and enjoy refreshments while brainstorming your formulations. Suggested price: $40 per person.
Get Your Sweat On At Orange Theory
Join us for a private Orangetheory class where you can experience the "Orange Effect" with friends. This high-energy workout provides heart rate based training that tones muscles, boosts metabolism, increases energy and burns calories for hours after your workout. The class consists of an hour-long mix of treadmill, rower and strength training and is truly self-paced in a trainer-led group environment. All levels of fitness are welcome and encouraged. After the class, join us for snacks, drinks and prizes to celebrate a great workout. Everyone will get a healthy fit swag bag. After the workout, Orangetheory representatives will be available to discuss membership options with those interested. Party is open to both current Orangetheory members and those interested in experiencing the workout. Please note, you may be contacted via phone, email or text regarding membership unless you request otherwise. Suggested price: $30 per person.
(Insert School Name) Karma
Life can be so busy, crazy and stressful!!! Take a break and join us for a morning of Zen at (Insert Location) yoga studio with a revitalizing yoga class (accessible by yogis of all levels) followed by healthy refreshments and socializing. What could be better than downward dogging and eagle posing your stress away with a fabulous group of (Insert School Mascot, i.e.: Tiger, Eagle) parents? Namaste! Suggested price: $30 per person.
Karaoke Night
Belt out your favorite songs with your friends cheering you on. At this fun party, you'll enjoy dinner, a two-hour open bar to get you warmed up, and a full selection of karaoke favorites to choose from for your diva moments. Come thirsty, come hungry, and come ready to sing! Suggested price: $50 per person.
Clip in at Soul Cycle
Soul Cycle. If you've tried it, you love it, and if you haven't, you should. Come out to Soul Cycle for a fantastic workout for a great cause. Join us for a fun 45-minute class filled with inspiration, music and sweat. After class, we will have drinks and snacks on the Soul Cycle terrace. Do it!! You won't regret it. 1:30 p.m.: Check in. 2 p.m.: RIDE! 2:45 p.m.: Drinks and snacks on the terrace. Cycling shoes, water and towels are complimentary. Bike selection is on a first-come, first-served basis. Suggested price $50 per person.
Sip & Paint Party
Tap your inner Monet and have a fun night out with fellow (name of school) moms as you paint a display-worthy masterpiece! Art supplies, wine, delicious apps, and desserts provided. Let your creativity flow as you Sip & Paint. Suggested price: $50 per person.
MixxedFit Cardio Dance
What happens when you combine pop and hip-hop music with a boot camp style workout – MixxedFit! Join us for a one hour, high-energy dance class at (insert location)! Certified MixxedFit instructor (insert name) will lead us through the moves, and when it's over, you'll wonder where the time went. After class, we'll head to a cool spot in (insert location) to put back in some of the calories we've burned with cocktails and appetizers. Join us. You may just find a new workout to love. Suggested spots available: 20 adults. Suggested price: $50 per person.
Annual (Insert School Name) Cup Best Ball Tourney
Join us for the now famous Best Ball Tournament at (Insert Location) to compete for prizes and the highly-coveted prize cup! There will be chances to win cash prizes and enjoy some camaraderie with other parents. Includes golf, cart, drinks and hors d'oeuvres. Suggested price: $150 per person.
Boots and Belles
Cowboy Up! It is time for the (Insert 1st, 2nd, 3rd, etc.) annual Boots and Belles where we will uncover our country roots! Come on over to (Insert Location) and enjoy some down home cooking, country cocktails and LIVE country music. Suggested spots available: 70 adults. Suggested price: $75 per person.
Mixology It Up!
Mix it Up at (Insert Location)! Come join those of us for signature cocktails and small bites. We will have a mixologist on site, so we can watch, learn and mix ourselves! Suggested cost: $75 per person.
Chicago River Canoe and BBQ Party
Join us for a leisurely canoe ride up the river where we will not only see the city from a totally new angle, but we will undoubtedly spot some amazing wildlife. After a 90-minute canoe ride, we'll head to a family's house on the river for some Blackwood barbecue, ice cold beer, wine and relaxation. You can stroll along the river on foot, if you like, or just sit back and enjoy the view. Suggested spots available: 32 adults. Suggested price: $85 per person.
Dad's Garage Fest
Battle of the 90s Bands Edition! Join the unbelievable (Insert School Name) Dads as we jump around and drink beer In The Garage. Don't be a Loser! Instead, join Mr. Jones, Jeremy, Two Princes, Buddy Holly, and possibly a Man in a Box as we slide from garage to garage Livin' la Vida Loca. Food and Fly drinks will be served. You Oughta Know this is One time to Get Off your (Baby Got) Back and Jump to an all 90s playlist that isn't Poison, but will definitely create some Virtual Insanity! Suggested price: $60 per person.
Moms' Night on Cloud 9
You are invited to the annual moms-only get together, a tradition moms look forward to all year. Attendees are requested to wear something white! You will feel like you are on Cloud 9 with a refreshing, summery atmosphere, delicious drinks, delightful delicacies and of course, great company. Suggested price: $75 per person.
Khana Khazana – Flavors of India
Whether you love Indian food or have never tasted any, join us to experience the many flavors of Indian cuisine. All you need is an adventurous palate! Suggested spots available: 14 adults. Suggested price: $60 per person.
Anchors Away!
Come aboard, we're expecting you! Please join us dockside at (Insert Location) for a three-hour tour aboard the S.S. (Insert School Name).* Grab your deck shoes and pop your collar for an evening of yacht rock, waterfront cocktails and the catch of the day. Enjoy soft tunes, late-summer breezes, and breathtaking views of the skyline from Montrose Harbor.
*Ok, this is a waterfront party and no actual boats involved. But if the wind is right, you can sail away and find serenity. Suggested price: $65.
Drinking 101: The Back to School Kegger
Forget your course syllabus and put away your bluebook. We're having a back to school bash! Relive your college days with a night of fun, food and drink. Save some quarters from your laundry because all the classic games will be in effect: Quarters, Flip cup, Anchorman, Beer Pong. And, of course, beer bongs! Suggested spots available: 75 adults. Suggested price: $65.
(Insert School Name) Dads Bears Party
Win or lose, this party promises to be a great time! Watch a Sunday afternoon Cowboys game with your fellow dads. There will be plenty of food and beverages including food from (Insert Restaurants). Suggested price: $40.
Bunco and Bubbles
Don't act like you don't know…..It's a BUNCO Party! We'll fill you up with appetizers and champagne, then get down to business with a rowdy game of Bunco! There will be prizes for winners, uncontrollable cheering and laughter for all. Suggested spots available: 40 adults. Suggested price: $60 per person.
(Insert School Name) Dads BBQ 101/102
Join us in our private pit room for BBQ 101, where we convert average backyard grillers into professionally seasoned smokers. Regions from E. North Carolina to W. Texas are explained in detail. We prepare and represent some of the best BBQ you'll ever eat ! We'll serve you brisket straight out of the smoker! Sliced, chopped, burnt ends, white bread, pickles, pulled pork, St. Louis style spare ribs and custard filled cornbread! We do it all and feed you a feast you'll never forget. Of course, beverages will be provided to quench your thirst! Come for an education, a meal, and some BBQ inspiration, and leave ready to fire up your pits at home. Suggested price: $85 per person.
You Can't Spell EUCHRE Without U
What sounds better than a night out in the neighborhood recreating your college days by playing Euchre and drinking beer? Join us for a Euchre tournament with prizes, booze, snacks and good-clean fun! Suggested price: $100 per 2-person team.
I Love the '80s
Movies that is! Prepare to dance the night away…as your favorite '80s film character. Maybe we forgot your birthday like Sixteen Candles' Sam? Are you from the wrong side of the tracks like Footloose's Ren? Do you and four friends make the perfect Breakfast Club? Or maybe you feel the need, the need for speed, like Maverick & Goose! Any way you like it, pick your favorite '80s movie character, build your look, and be ready for drinks, snacks, and a photo booth with your best (Insert School Name) friends! Prizes will be awarded in many categories, so bring a totally awesome costume! Suggested spots available: 100 adults. Suggested price: $50 per person.
Dad Fight Club 2
Dad Fight Club 2 – The Return of #SumoDadbod. Get fired up for another unpredictable night of big bellies and big fun at this dads-only party. We're taking over (Insert Location) and we're breaking out the inflatable sumo wrestling suits. Get in the ring and take on another (Insert School Name) dad or sit back and watch the hysterics unfold. Throw in plenty of food, drink and more, and it's a win-win. Suggested price: $50 per person.
(Insert School Name, i.e.: Bowie) on Tap
(Insert School Name) parents are taking over Oak Highlands Brewery for beers and bontanas from (Insert Restaurant Name). Beer, food and fun are included in the entry.
Ladies Jingle & Mingle
Jingle and Mingle night! Come get your jingle on and mingle a little!
I Can't Believe I Wore That
Come dressed in what many would consider your worst outfit, such as Rocky Mountains, wrap skirt, sweater with unneeded shoulder pads, parachute pants, Units, Z Cavariccis, or maybe that shirt you wore yesterday. There are so many options. We all have them so let's get together with all the throwbacks to help you remember why you wore that!
Dad's Cornhole Tournament
Gentlemen only teams are invited to participate in a Cornhole Tournament and compete. Don't have a team? Don't worry. We can pair you up. Beer and delicious food provided by (Insert Restaurant).
(Insert School Name, i.e.: Bowie) Bumpkin BBQ
Git off your couch on yur front lawn, comb your mullet and wander over for some real meat! Plenty of moonshine and roadkill for y'all. Shoes optional.
About Murad Auctions
Murad Auctions offers professional charity auction services to non-profits for successful benefit auction events. Since 2000, Murad Auctions has helped hundreds of non-profits achieve their fundraising goals. Murad Auctions relies on expertise, crowd-pleasing enthusiasm and technology to take benefit auctions to the next level. If your organization needs advice on your auction event, please contact Murad Auctions at 972-238-0249 x 102. We will be happy to help make your non-profit fundraiser a success.