School Auction Fundraiser Class Projects!
Let's celebrate the beginning of the school year with some wonderful class projects. You are most likely a teacher, room parent or auction volunteer who has graciously agreed to give your time and talent to help create a beautiful, creative and profitable class project for your child's home room for the school fundraiser! Look no further! These projects as well as those showcased on our Pinterest page are creative and easy to produce!
The Children Clock: I love this project which has decoupaged photos of each of the children as they are posed to create the hours of a clock.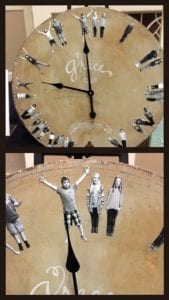 Reaching Hands: Each Child's hand is traced and surrounds this inspirational quote. The children are allowed to color their hands creatively to give the piece character and childlike design elements.
Ice Bucket: This simple idea is so wonderful and easy to make!
Child's Artwork in Note cards or Notepads: Each child creates a piece of art and you make it into note cards or notepads and sell each individually! No parent will leave without purchasing their child's work! Find out more here.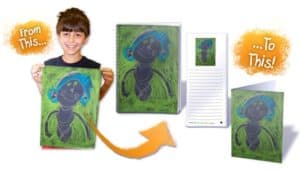 Key chains, jewelry and stuffed animals made from your child's art: Use these as multi sale items at your next fundraiser! You can place each child's creation at the parent's seat at dinner with a for sale tag. No parent will leave their child's treasure without purchasing it.
At one of our recent events, the art teacher asked each child to draw a picture of their home. She framed this picture with an actual photograph of their home and it was a lovely keepsake for each family! She sold them all and the proceeds helped fund a new art studio at the school!
At a December Christmas Around the World themed school auction, each child made an ornament for the event and they all were hung by grade on Christmas trees around the venue. The parents could each buy the ornaments for $20 and the school made a nice profit, while the family had a wonderful keepsake to treasure! These were created during art class. The trees were the decorations for the event!
About Murad Auctions
Murad Auctions offers professional auctioneer services to non-profits for successful benefit auction events. Since 2000, Murad Auctions has helped hundreds of non-profits achieve their fund raising goals. Murad Auctions relies on expertise, crowd-pleasing enthusiasm and technology to take benefit auctions to the next level. If your organization needs advice on your auction event, please contact Murad Auctions at 972-238-0249 x 102. We will be happy to help.