Ideas For A Storybook Fundraiser Theme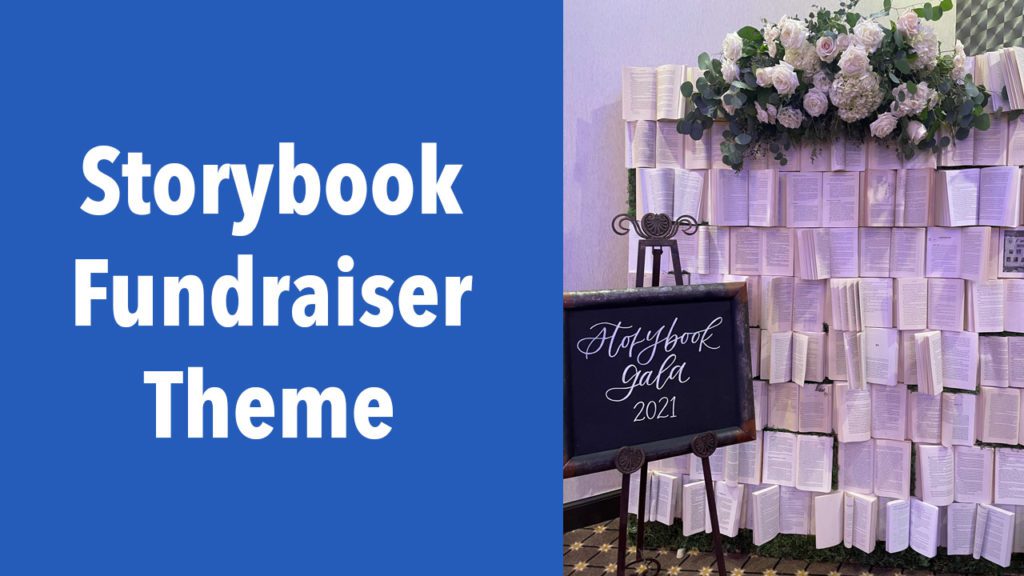 The Storybook fundraiser theme provides numerous opportunities to create a memorable story about your nonprofit's mission. A great example is how a children's advocacy center incorporated the organization's mission into the theme in several creative ways.
First, they promoted the theme on their fundraiser/auction website. They created and posted compelling graphics that explained the fundraiser theme and the organization's mission.
Storybook Fundraising Event Décor
Next, they incorporated the theme into the décor. When guests entered the fundraiser venue, they were greeted by a beautiful backdrop. There was also a large display made of books and flowers. This décor attracted guests' attention right away and was a lovely backdrop for them to take pictures.
If you decide to use this décor in your fundraiser, encourage guests to take photos using it as a backdrop. Provide selfie sticks and give them the hashtag for your event, so they can share the photos on social media. This is a great way to get exposure for your event.
It's also a good idea to hire a professional photographer to help capture memories. These photos can be posted on your organization's social media and included in any post event communication, such as your newsletter/e-mail marketing. Include details about the event, such as how much money was raised, etc. This also gives you a chance to let readers know that it's not too late to donate to your cause.
The décor also included a large banner with a short story about the significance of the fundraiser. It read: Once upon a time, Grayson County came together to provide the resources necessary to impact the lives of the most vulnerable and wounded. They dined, and they donated. What could be better than helping a child have a happier story to tell? The End. This was a creative way to help guests focus on the nonprofit's mission during the event.
The theme was carried through to the dinner tables as well. They were decorated with several books that were topped with candles and flowers.
How To Showcase Sponsors At Storybook Fundraiser
Another clever idea was to include their sponsors' names in the theme. The levels of sponsorships were words related to books, such as Illustrating Sponsor and Editing Sponsor.
Fundraiser Idea Resources
To get more fundraiser theme ideas and tips, check out more articles in our blog.
The content from this blog was taken from our YouTube video about a Storybook fundraiser. It is part of our Murad Minute series of short videos that provide fundraiser tips and theme ideas. Check out some of these videos:
Butterfly Gift Card Pull Fundraiser
Welcome to Bedrock Fundraiser Theme
Wine Pull Wine Glass Fundraiser
If you want to know when we post new fundraiser tips and themes, subscribe to our YouTube channel and click the bell icon. We appreciate your feedback. It helps us continue to produce helpful, relevant content that will help you take your fundraiser to the next level.
We're Here To Help With Your Fundraiser
If you have questions or need help planning your fundraising event, we're here to help. We offer a free consultation for nonprofits. Just go to https://calendly.com/clairemurad. We would love to share our fundraiser expertise to help you plan a successful and profitable fundraising event.
You can also contact us by going to our contact page.