Do you need a new twist of selling raffle tickets at your fundraising event?  Most groups sell 1 ticket for $25 and 3 for $50, giving your guests the incentive to buy more tickets.  I love this idea!  However, let's take it a step further and offer an Arm's Length of tickets for $100!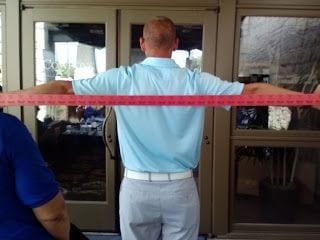 One of our clients did this and it was a huge hit!  The guest pays $100 and gets to hold out their arms and the number of tickets is measured across the length of their arm span. (See picture)
This made the raffle exciting and fun for the guests.
 I also loved the way the volunteers created a level of expectation that all of the guests would purchase raffle tickets.  At the entrance was a very long table for check in, which created a type of assembly line.  Murad Auctions was at the front end of the table, prescanning credit cards and giving out the bid packets.  Then the guests moved down the table to be given their drink tickets and then to the raffle ticket sellers before they entered the event.
The language used by the sellers was very important!  As each guest approached, they said, "How many raffle tickets would you like to buy?  Our best deal is the Arm's length raffle.  You hold out your arms and we measure the length of tickets along your arm span and this is the number of tickets you get for $100!  Isn't that great?!"  No one said,
Would you like to buy
raffle tickets?—It is easy to say "No" to this question!  They said,
how many
tickets do you want to buy?  "
No"
is not an answer to this question. Instead, the guests felt obligated to tell the sellers how many tickets they wanted to buy.  This is the old sales strategy called, Assuming the Close!
As the check in progressed, some guests got smart and pulled their tall friends over to have the tickets measured against this person's arms!  It was fun and entertaining to watch and most of the guests took advantage of the Arms Length Raffle!