How To Effectively Showcase Your Mission To Convey How Fundraiser Money Will Be Used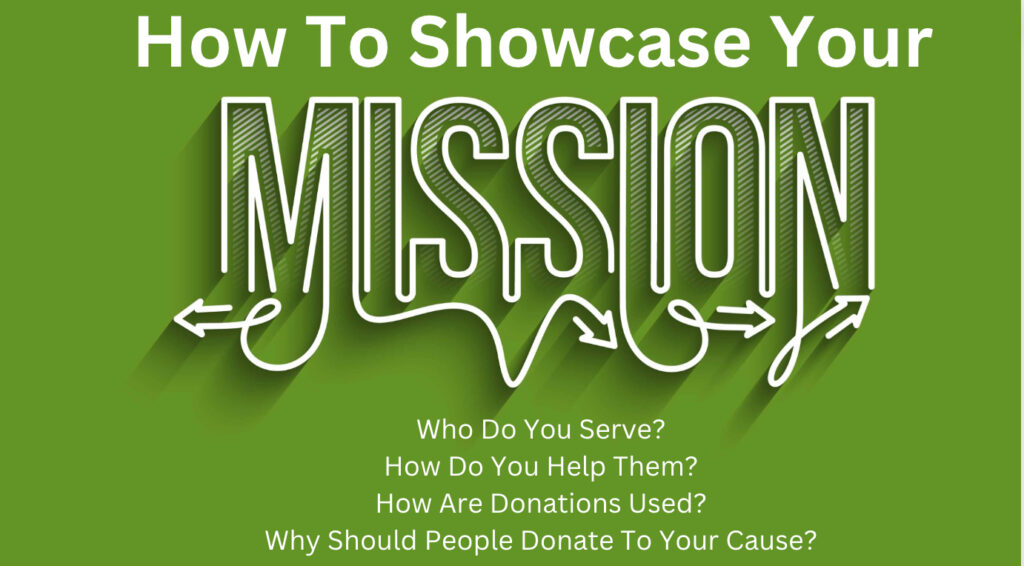 It's important to know how to effectively showcase your mission to communicate how money from your fundraiser will be used. If you do this well, it can help you retain and grow supporters. There are several ways to creatively convey your non-profit's mission. To do this, you must focus on the main information that donors want to know about your organization. If you effectively answer questions like the following, they will likely become recurring, loyal supporters:
How does your non-profit use their donations?
Who does your organization serve/help?
How do you help those you serve or what do you provide for them?
Providing this information helps build a connection between them and your organization. It also helps show the importance of your mission, and may result in them increasing their support.
Here are some ways to convey your mission effectively and creatively:
Showcase Your Mission During The Fundraiser Presentation
Convey your non-profit's mission during your fundraising presentation. This is the perfect time to tell your organization's story and raise awareness while you have a captive audience. You should capitalize on this opportunity.

Your presentation should include your mission statement, information about how you use donations, photos of the people your organization serves, and testimonials.
Here are some videos with more information about how to showcase your mission:
Use A Video To Convey Your Mission
Showing a mission video during your event is a great way to efficiently convey this message. The video should be shown after everyone is seated. If possible, hire a professional videographer to create the video.
Here are some tips to help you create an effective, emotionally appealing video:
If you can't hire a videographer, ask one to donate their services, ask a college student who has these skills, or use video creation software to make the most professional video you can.
Write a compelling script for your video.
Discuss your non-profit's mission.
Include brief information about your non-profit's major accomplishments.
Include 1-2 brief testimonials from donors/supporters.
Include 1-2 powerful video testimonials from people who have been helped by your non-profit. Photos of the people and voiceovers will work as well.
Outline the organization's future goals.
Let your supporters know how their donations will be used to help others.
Include information on why the organization was created.
Make it clear why they should support your organization.
Here are some of our YouTube videos that provide more tips about mission videos:
Convey Your Mission On Your Website And Social Media
Your website gives you more space and opportunity to inform supporters and potential supporters about why they should donate or volunteer. It should contain the same information as your presentation, but in more detail.
Include a video page that contains videos of the people you serve. It's important to maximize the power of videos. Add them to YouTube and other social media.
If you are selling tickets to your event online, holding an online auction, or using mobile bidding, include a video on these platforms.
Watch this YouTube video to get ideas and more information:
Use Your Event Program to Convey the Importance Of Those Your Serve
Your event program another effective way to convey your mission. Include a summary of your mission, photos of those you serve, and how the fundraiser money will be used.
The Rockwall Women's League gave each guest a program at their fundraiser. Several pages within the program were dedicated to showcasing their scholarship recipients and the nonprofits they fund.
Use Your Bid Paddle to Showcase Your Needs
Bid paddles are used during the live auction, but they are also an important part of the event's Giving Moment. Often called the Fund A Need, Giving Moment, Lightning Round, or the Donation Appeal, this time is when we ask guests to give donations directly to your organization. To make this easy, effective and to tap into positive peer pressure, we ask for donations at specific levels and guests raise their bid paddles to donate. Helping your donors visualize what they are funding at each level, helps them feel that they are accomplishing something real.
In the picture below, you can see that $5000 will fund a rider for a year. $500 will send a rider to the Special Olympics. Outlining this on the bid paddle, puts your needs front a center for each potential donor. Quick tip! Also include this information in the online bidding platform to allow your guests to see these levels on their lit phone screen during the Giving Moment. Our software sends out a text with this information too. In addition, include the information on the screens near the stage so guests can easily read it during the Giving Moment.
Display Signage Throughout The Venue To Show Who You Serve
Use the venue to help supporters connect with the people you serve. Seeing photos of them will help inspire donors to give to your cause. You can display the photos creatively on boards, posters, and on tables throughout the venue.
Display Posters To Show How Donations Will Be Used
You can also display posters that show why their donations are needed and how the funds will be used.
Find out more about wish mannequins by reading our blog.
One non-profit that serves the homeless created a board with a variety of signs that homeless people made. The board also included homelessness stats.
If you have questions or need assistance planning your fundraiser, Murad Auctions is here to help. Contact us at 972-238-0249 x 102 or contact us. You can also schedule a free consultation at https://calendly.com/clairemurad. We will be happy to help make your non-profit fundraiser a success.
About Murad Auctions
Murad Auctions offers professional charity auction services to non-profits for successful benefit auction events. Since 2000, Murad Auctions has helped hundreds of non-profits achieve their fundraising goals. Murad Auctions relies on years of experience, crowd-pleasing enthusiasm, and technology to take benefit auctions to the next level.