How To Expand Online Fundraising For Nonprofits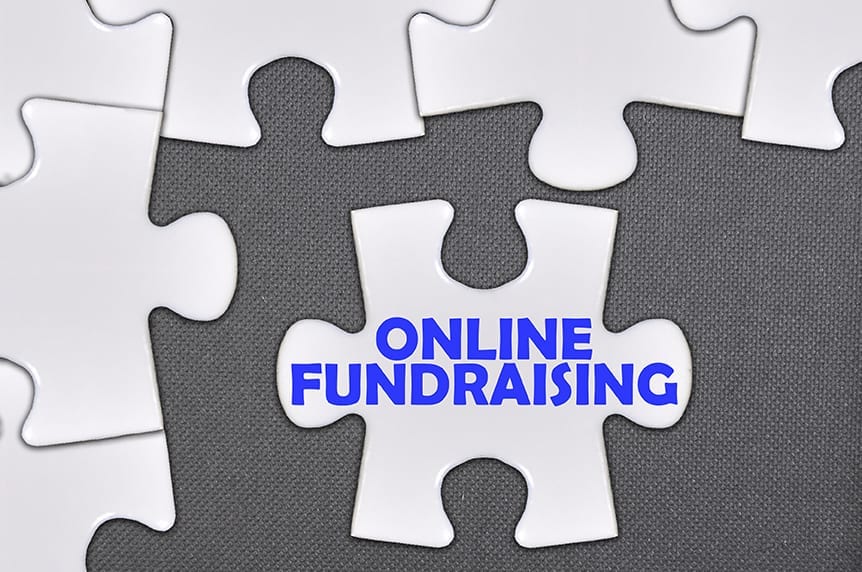 Nonprofit organizations should expand their online fundraising by trying online auctions, virtual live auctions and peer-to-peer fundraising. Adding these digital fundraising methods will help spread the word to reach more people and stabilize income. These fundraising efforts will also communicate your mission to more people and gain new donors.
How To Organize An Online Auction
Use Online Auction Software
Nonprofits, schools, and churches have always used silent and live auctions to accomplish their fundraising goals. Some organizations use bid sheets and some use mobile bidding to manage their auctions. There are many online auction software platforms you can choose from. We have researched them all, and can help you navigate finding the platform that is the right fit for your nonprofit. Save time and money by scheduling a free consultation and software tour. Contact us for more information.
Take Advantage Of Online Auction Benefits
How many auction items should you have in your auction? At your typical fundraising event, we recommend that you have no more than half the number of auction items as people in your room. For instance, if you have 300 people attending your event, you will have no more than 150 silent auction items. This helps you maintain a good ratio where your sales prices for your auction items will remain high.
At a typical fundraiser, your audience limits the number of auction items you can sell. However, an online auction has the benefit of allowing you reach people all over the country or even all over the world! Because of this, you can increase the number of silent auction items you sell in your online fundraising event!
Text Online Auction Bidding Link To All Your Supporters
Include your entire data base of supporters in your fundraiser by emailing or texting a public bidding link to all your supporters! People respond to text messages more than email. Email filters reduce the number of people who will read your email. A text message reaches your guests and gets their attention right away! This is a great way to get them bidding and raising money for your worthy cause!
Think outside the box. For instance, a school might send out the auction link to their alumni, parent's association, current school families as well as their grandparents' support group.
A private school we work with established a Grandparent's Association and collected the contact information from all their students' grandparents. They send out special newsletters to the grandparents each year, and invite them to special events, like Career Day, Grandparent's Day and ask them to assist in the classrooms. Grandparents often donate to the school since they have greater expendable income and want to support their grandchildren! It expands the donor base of the school and allows extended families to be involved and support the organization. Karen, the development director for the school shared, "Our grandparents are often our most active bidders in our online auction!"
Get Creative With Your Online Auction Items
Get creative with your auction items! Try to get local businesses involved to auction off their goods or services. Since the auction is now online, the businesses who donate to you can get lots of great exposure. You can showcase their businesses through the item they donate and include a link back to their business website. You can showcase them as a sponsor on your online auction as well. When bidders click on these items to place a bid, they can easily see the information about the donor company.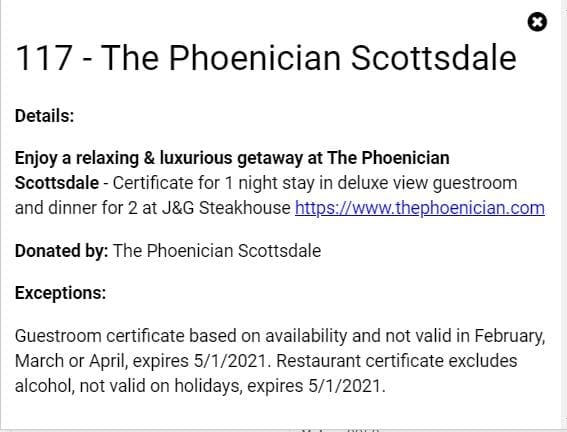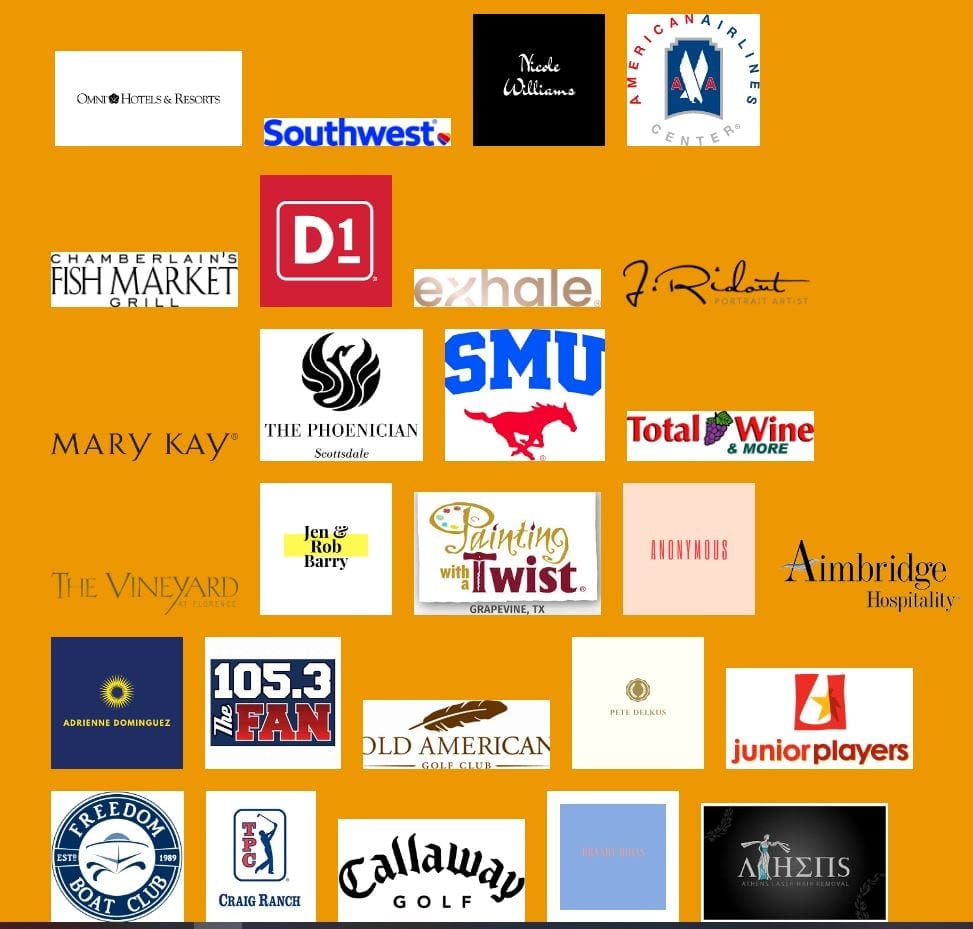 The following are some creative online auction fundraiser ideas:
Online Fundraising Idea–Gift Baskets
Ask supporters to create a basket with a minimum value and theme. Send them a list of themes and value each basket for $50 to $100. Get more themed basket ideas here.
Online Fundraising Idea – Trips Or Airline Certificates
Ask your supporters if they can donate time at a vacation home or airline miles. Another option is to contact vacation resorts and hotels to request packages or items to donate. If you have a hard time obtaining these items, you can use some of our no risk travel and experience items to fill in your catalog for your online fundraising campaign. Our most popular items are our Croatia Trip, our Napa Valley experience and our Adventure Packages. Try sky diving, race car driving and other adventures for your thrill seekers!
Online Fundraising Idea – Tours Of Local Industries
Tours of local industries could include local radio or TV stations, insider tours of local businesses or even the fire station, State Capitol or Mayor's office.
Online Fundraising Idea – Gift Certificates
Try getting gift certificates for popular restaurants in your local area or near by vacation destinations. You can package these together to create Date Night or Dine Around Town packages as well.
Online Fundraising Idea – Experience With Local Celebrities
Another great online fundraiser idea is offering experiences with local celebrities like a tour of the locker room with a local athlete.
Online Fundraising Idea – Concert Or Sports Tickets
Concert or sports tickets can also be packaged together as a Sports Enthusiast package or Golfer's Dream Package, which would include golf lessons, a golf club or other item, and rounds of golf at different local courses.
Online Fundraising Idea – Limousine Ride To An Event
A limousine ride to see Christmas lights, attend a concert and dinner or local outing is always a popular online auction item.
With so many great auction ideas out there, your auction has the potential to be a huge success with your supporters.
How To Organize An Online Live Auction
With the creation of virtual events, we now have online live auctions! This is an exciting new way to fundraise and include more people in your online fundraising strategy. Holding a virtual event is a great way to keep your supporters engaged, create excitement, and raise money for your organization.
People want something fun to do and they want to support you too! Even if you are holding a traditional fundraising event, you can utilize our virtual live stream technology to include your supporters who may be out of town, or who cannot attend your live event. Through the live stream online fundraising platform, we can show your remote guests all of the programming from the live event, such as mission videos, award presentations, the live auction, and keynote speakers.
Connect Your Supporters Via A Real-Time Live Auction Platform
Connecting your supporters through our Murad Auctions Real-Time Virtual Live Auction Platform allows your guests to log onto a platform and have a party together, while still being in the comfort of their own homes. Features in the platform allow guests to interact, with chat, live bidding, and donation opportunities. Social media like Instagram and Facebook add an exciting and fun element for guests to share pictures as they are participating in the party.
Use Real-Time Live Auction Software To Create Excitement And Sell Live Auction Items
Live auction items are usually your exciting and high-priced items that generate the most excitement during your event. You can create this same excitement online by using our real time live auction platform. Our auctioneer sells each live auction item just like we do at an in-person event. Guests can see the auctioneer and see the current bid on their computer or mobile phone. Our clerks will add bids from your guests at the in-person fundraiser, and your remote guests can bid in real time from their computers or mobile phones. It is exciting and expands the number of guests you can include in your event! Click below to view a few online live auctions.
View our Live Auction Demonstration below:
Use Real-Time Live Auction Software To Offer Text To Give And Send Custom Donate Links To Guests' Phones Or Computers
We know how important the Fund a Need or Giving Moment is at any event, and a virtual event can include an impactful donation campaign as well. Our software platforms include Text to Give and the ability to send guests a custom link to donate on their phones or computers.
An appeal display shows how much has been donated and a thermometer appeal display board helps everyone see what they are accomplishing together. You can even display donor names on a screen as they donate and thank them in real time! This display can be shown during your virtual event and in your ballroom during your in-person event!

How To Organize A Peer-To-Peer Online Fundraiser
Peer-to-peer fundraising allows your donors and core support team to fundraise on your behalf. Some people call this Ambassador Fundraising because these people have a passion for your cause, and their influence can help you raise money and increase your number of donors. A recent study showed that 52% of people say they will donate the same amount to their charities and 27% say they will give more in 2020. This is great news!
To capitalize on this, ask your Ambassadors to set up a fundraising page to take donations. There are many online software platforms you can use to help you set up these online fundraising pages. If you need help finding one, contact us and we will be happy to direct you to the platform that fits your needs.
Another fundraising study this year stated that two key factors influenced whether a person donated to an organization.
Was it easy to make the donation?
Did the cause mean something to them or to someone they were connected to?
If the answer to these two questions is YES, the person was much more likely to give to the charity. This is the key to Peer to Peer online fundraising! It makes it easy to donate online, and the Ambassador shares why the cause is important to them and asks their friends to donate on their behalf.
Each ambassador creates a fundraising page they can share with their network of friends, family, and business contacts and asks them to donate to your cause. These pages can be shared via email, text, and social media, which makes this an easy process. The fundraising pages can show goals, share updates on how much has been raised and can show who has donated. They can also use a donation thermometer to track their progress. Some peer to peer platforms can even track how many social shares the Ambassador has made.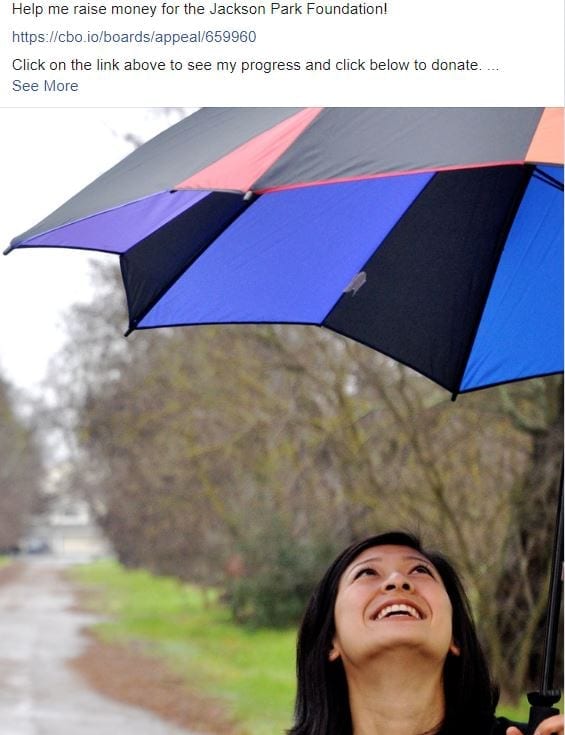 Encourage your Ambassadors to share a story about why your organization is so meaningful to them. A personal story goes a long way here. They can share this information on their fundraising pages and when they post about your campaign on social media. Peer to Peer fundraising is perfect for your supporters heavily involved with social media.
Use compelling images and stories in your peer-to-peer fundraising campaign pages and encourage your Ambassadors to do the same. Ask them to also share the following:
Pictures of the people that your nonprofit is helping
A mission statement video that tugs at the heartstrings
Details about the project you are raising money for. Include pictures and video if possible.
Don't forget to use consistent colors and logos to tie the campaigns together.
Try A Combination Of In Person And Online Fundraisers
Most of our events will now be a hybrid of in person and virtual event to include everyone in your fundraiser, both online and in person!
Whether you use online auctions, virtual live auctions, or peer to peer fundraising, you will expand your influence, spread your message further and gain new supporters along the way.
About Murad Auctions
Murad Auctions offers professional charity auction services to non-profits for successful benefit auction events. Since 2000, Murad Auctions has helped hundreds of non-profits achieve their fundraising goals. Murad Auctions relies on years of experience, crowd-pleasing enthusiasm and technology to take benefit auctions to the next level. If your organization needs advice on your auction event, please reach out to Murad Auctions at 972-238-0249 x 102 or contact us. We will be happy to help make your non-profit fundraiser a success.