How To Host a Butterfly Theme Fundraiser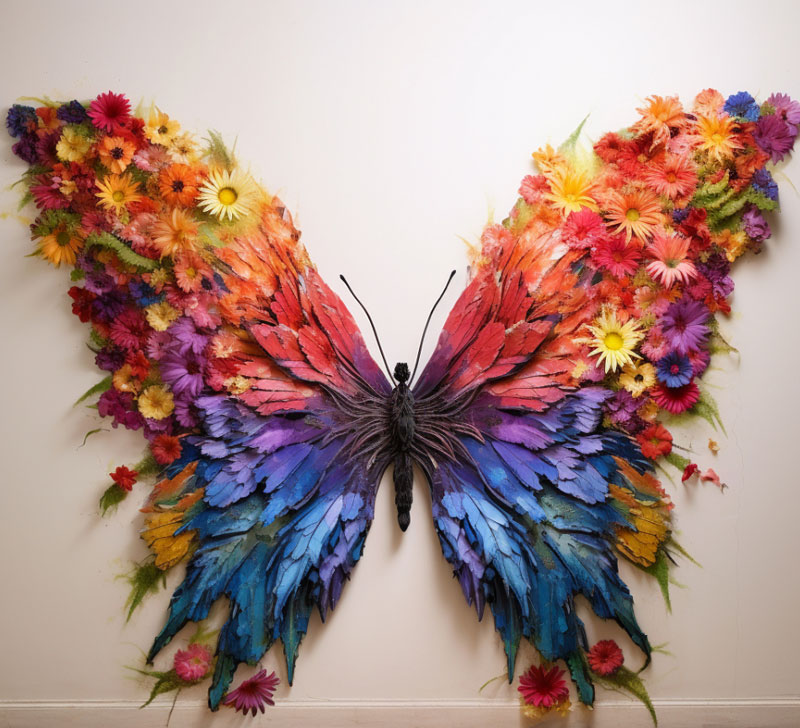 Hosting a butterfly theme fundraiser is a unique and captivating idea and an opportunity to raise awareness and funds for your nonprofit. This blog will explore valuable tips to help you plan a memorable butterfly-themed fundraiser, creative decor ideas, and fun, engaging butterfly-themed games to ensure your event is a success.
Tips for Hosting a Butterfly Theme Fundraiser
Promote Your Fundraiser
Design eye-catching invitations and use social media, your website, and newsletter to promote your event. You can also encourage your supporters to spread the word. Here are two invitation examples and a website header.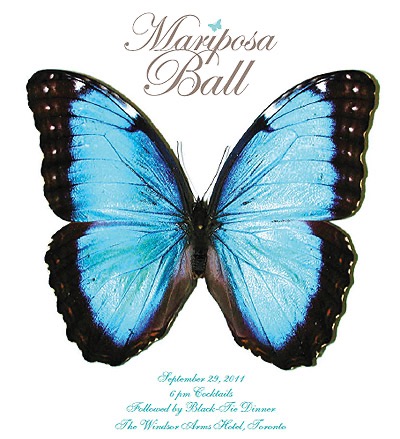 Choose a Venue That Works Well With Your Fundraiser Theme
Select a venue that will work well with your butterfly fundraiser theme. A great example in the Dallas, TX area is the Texas Discovery Gardens. It's a 7.5 acre organic garden that includes a butterfly house. This venue has a versatile indoor space that features floor to ceiling windows overlooking organic gardens. It can comfortably host up to 250 for a seated dinner and 400 cocktail-style. It has several options for an outdoor event as well. Its Butterfly House features free-flying tropical butterflies. This venue also offers a butterfly release ceremony.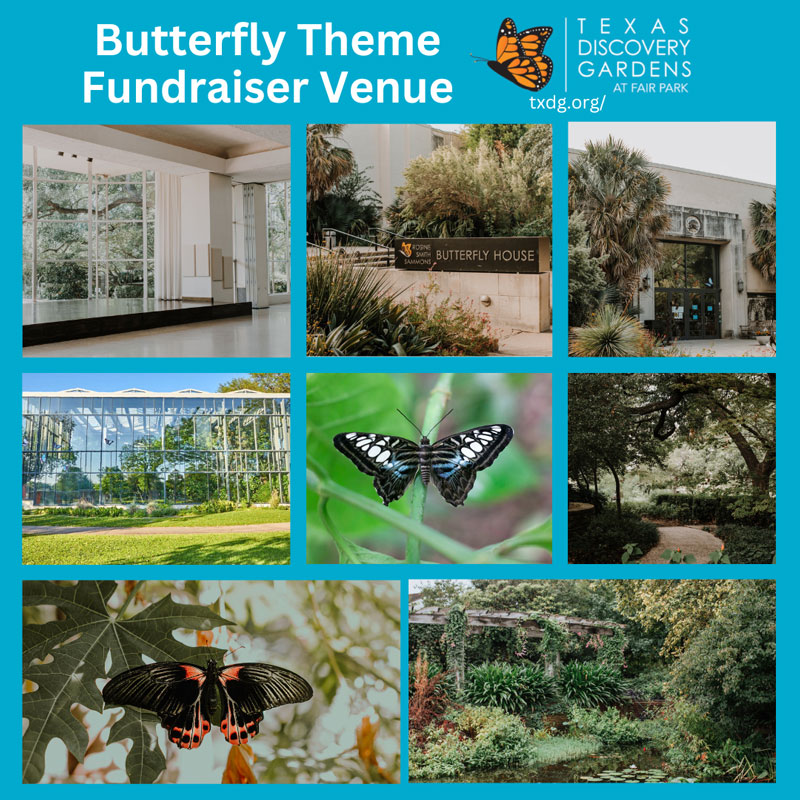 Have Butterfly Release Ceremony
If you have an outdoor venue, arrange a butterfly release ceremony, symbolizing hope and transformation. Partner with a butterfly conservatory or professional butterfly breeder to help organize the release.
Create Butterfly-Theme Décor
Transform your venue into a butterfly wonderland using the decor ideas below. Incorporate colorful flowers, artificial butterflies, twinkling lights, and whimsical accents to create an enchanting ambiance. See the decor ideas below.
I love the logo on the banner below. "On Wings of Hope & Transformation"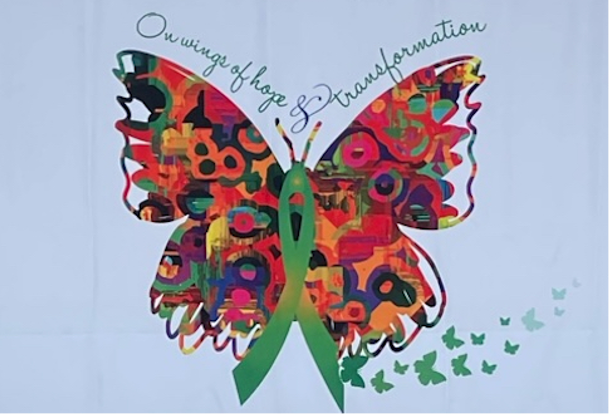 Engage Attendees With Butterfly-Theme Fundraiser Games
Offer entertaining games inspired by butterflies to keep guests engaged and excited. Try to select or create games that align with your event's theme. See game ideas below.
Offer a Butterfly-Theme Menu
Coordinate with your venue or a local caterer to provide butterfly-inspired food and drinks. Consider butterfly-shaped cookies, colorful fruit platters, and cocktails or mocktails branded with butterflies.
Acknowledge and Thank Your Donors
Thank all attendees and donors for their support. Send personalized thank-you notes or emails. Recognize major donors during the event with signs and ask the auctioneer to acknowledge them.
Offer Risk-Free Live Auction Packages
The live auction brings the largest profits for a fundraiser. It's important to have great auction packages that will appeal to guests. Be creative and offer some butterfly-inspired no-risk auction packages at your fundraiser. These consignment auction packages are great because your organization doesn't pay unless the items are sold. Below are a few butterfly-theme related auctions package ideas. You can see more fundraiser auction package ideas here.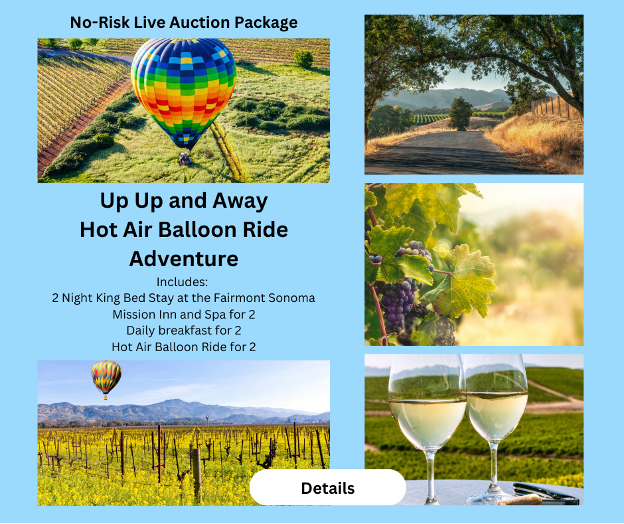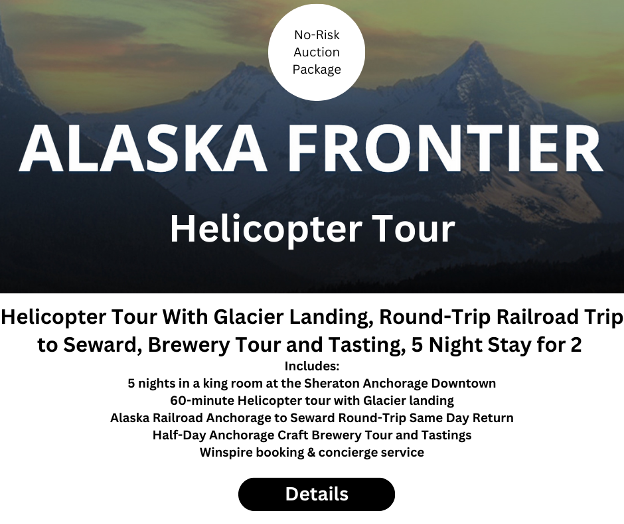 Decor Ideas for Your Butterfly Theme Fundraiser
Décor is an important part of your fundraiser. Create décor that is related to your theme. Make your décor captivating, attractive, and visually appealing for your attendees. Enlist the help of volunteers and local vendors.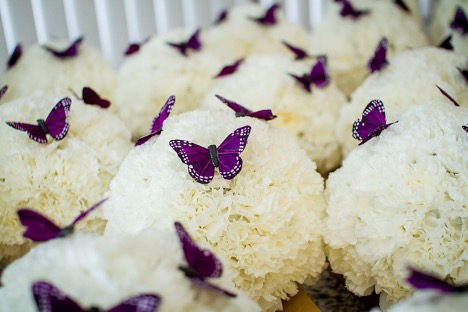 Butterfly Backdrop
Create a stunning photo booth with a backdrop featuring oversized butterfly cutouts or a mural of a butterfly-filled garden. Encourage attendees to share the photos on social. To purchase any of these ideas, search for them on Amazon, Walmart, or other online retailers.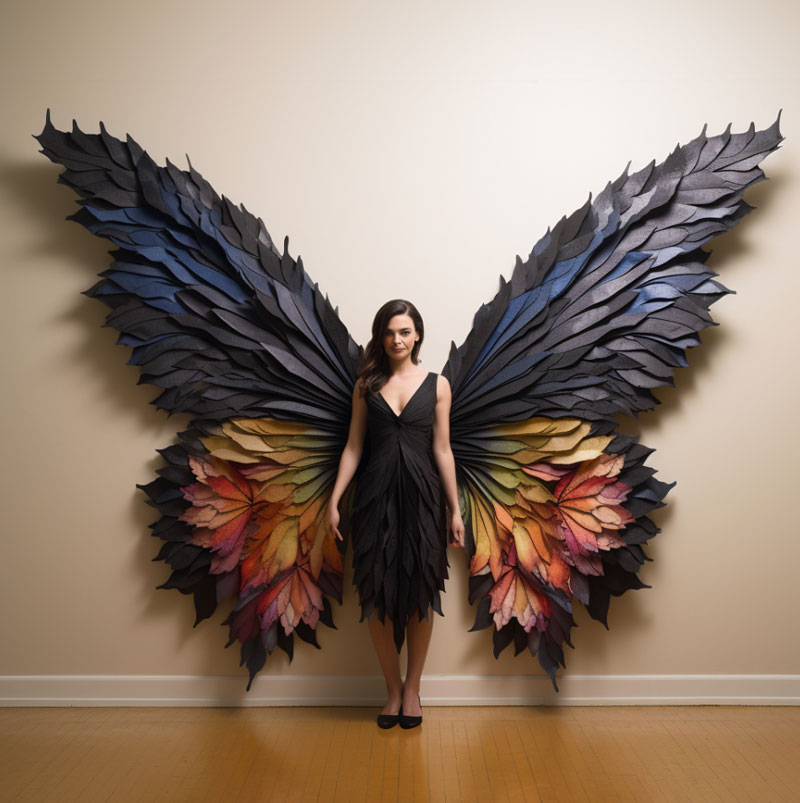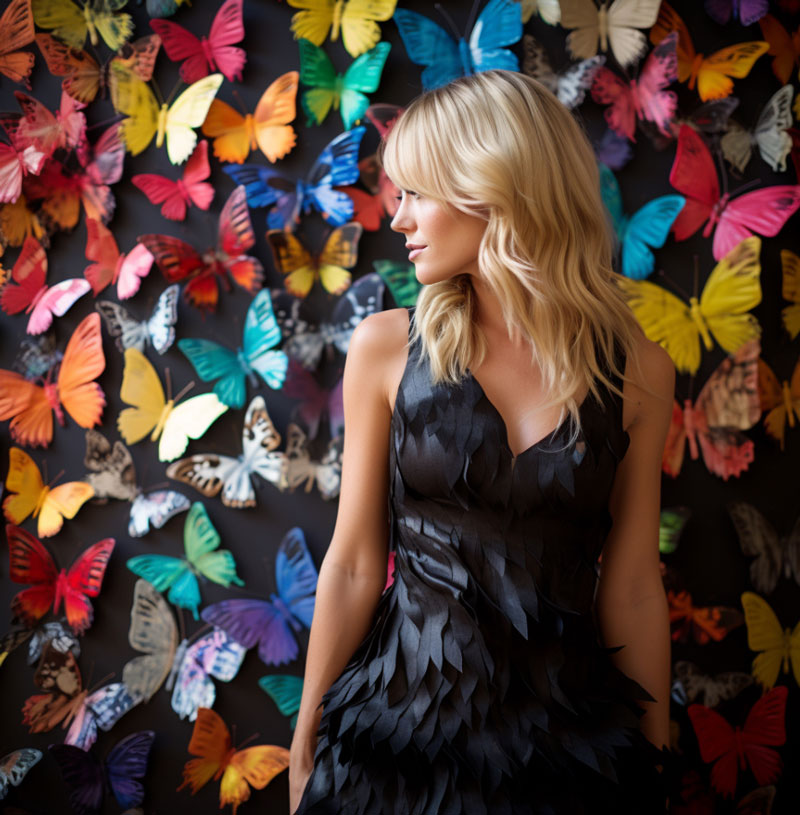 Floating Butterflies
Hang delicate butterfly-shaped paper or fabric decorations from the ceiling, giving the impression that they are gracefully fluttering overhead.
Floral Or Butterfly Centerpieces
Ask a local florist to donate vibrant floral centerpieces, incorporating fresh flowers that attract butterflies, such as lavender, milkweed, or zinnias. You can also ask volunteers to create stunning artificial floral centerpieces or decorative butterfly centerpieces. Attach a QR code to the centerpieces and ask the auctioneer to let guests know they can scan the code to purchase the centerpieces.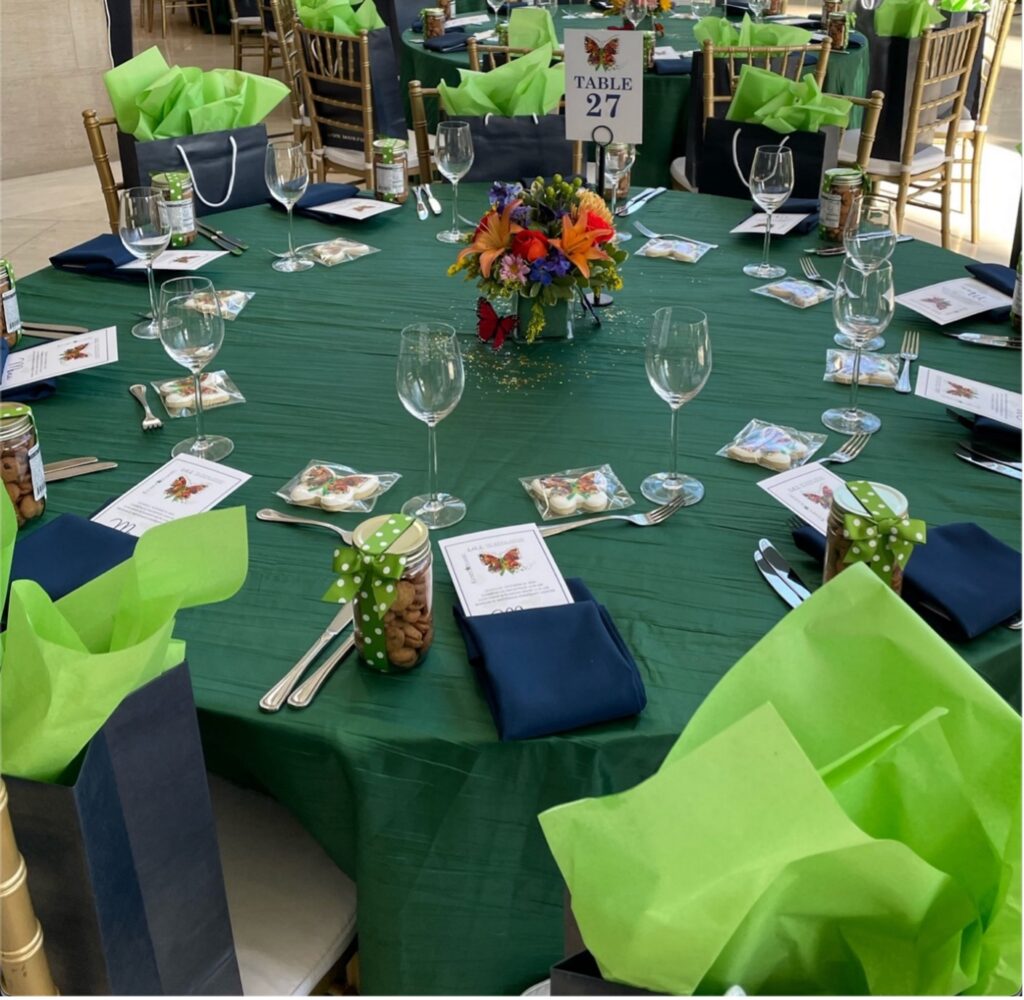 Butterfly Lanterns
Hang decorative lanterns adorned with butterfly silhouettes around the venue, providing a soft and enchanting glow.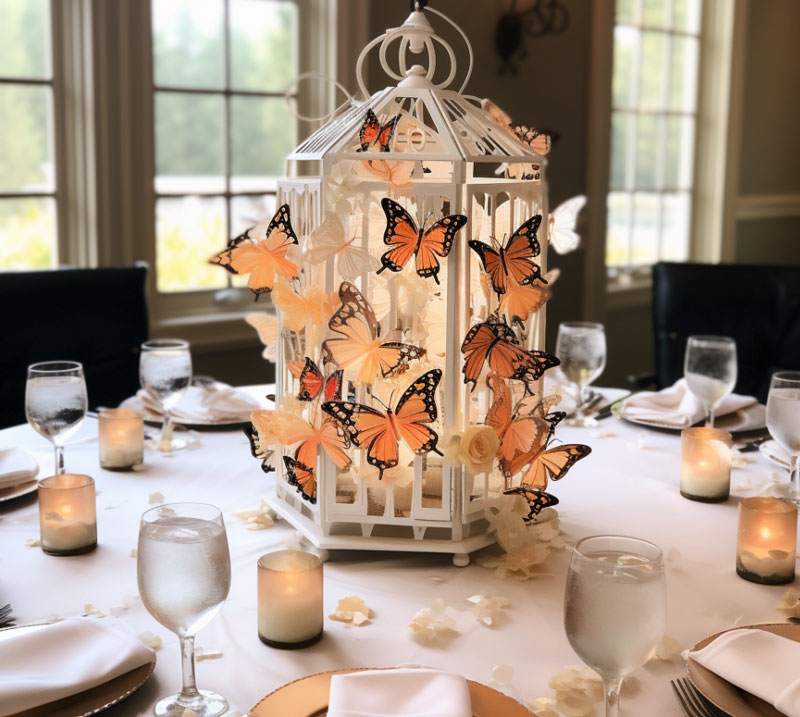 Butterfly Pathway
Line the walkways with a trail of colorful painted or glittery butterflies to guide guests to the main event area.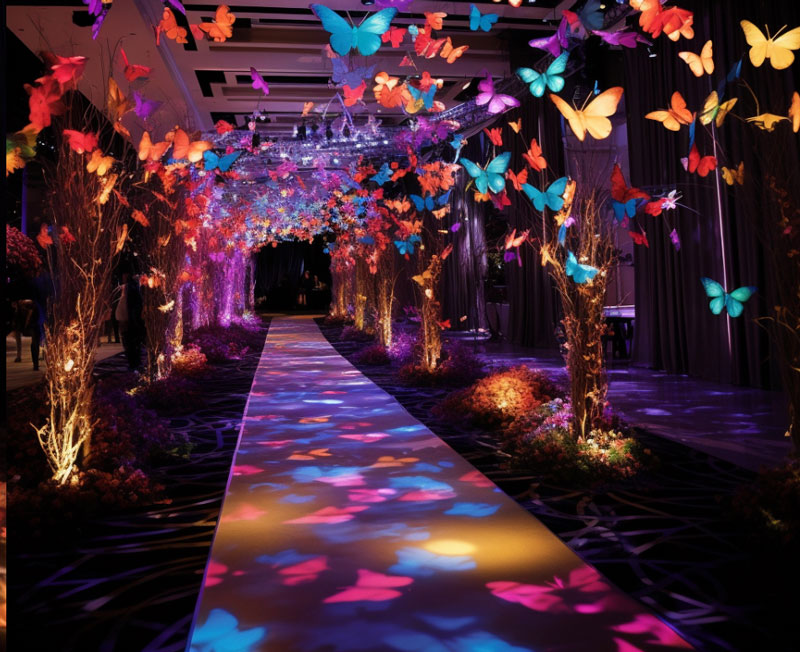 Butterfly Table Settings
Use butterfly-printed tablecloths, napkins, and place cards to incorporate the theme into your dining area. Ask volunteers to fold napkins to make creative butterfly décor like the one below for the tables.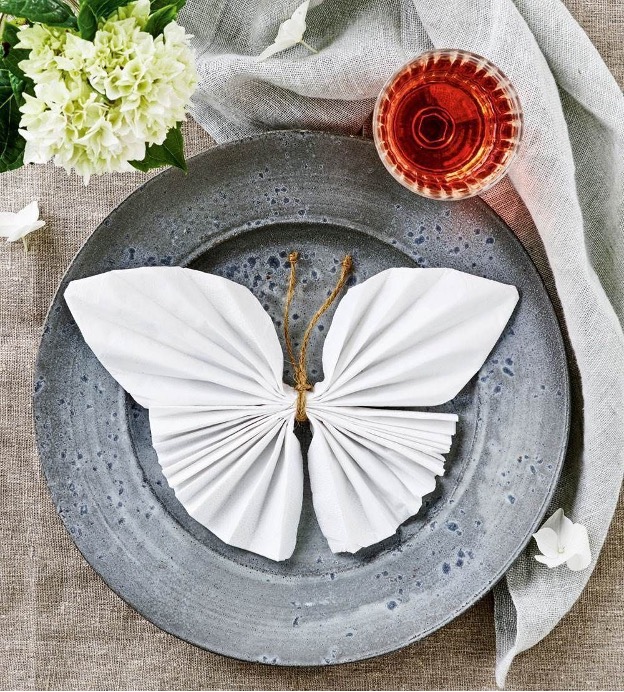 Butterfly Wall Décor
Adorn the walls with colorful paper or metal butterflies or framed butterfly prints or paintings to create a visually captivating ambiance. Ask a local artist to donate or let you display their artwork. You can include the items in the silent auction if they donate them.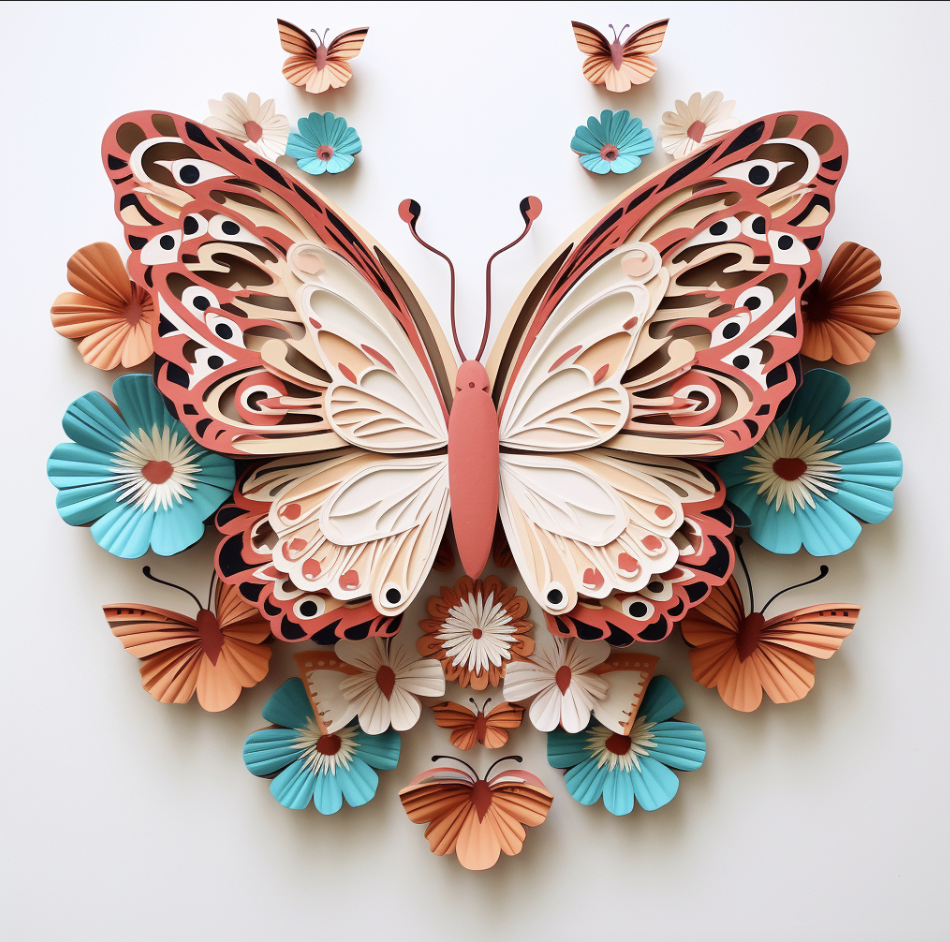 Butterfly Stage Décor
Add a large lighted butterfly to the stage to create an elegant ambiance at your event.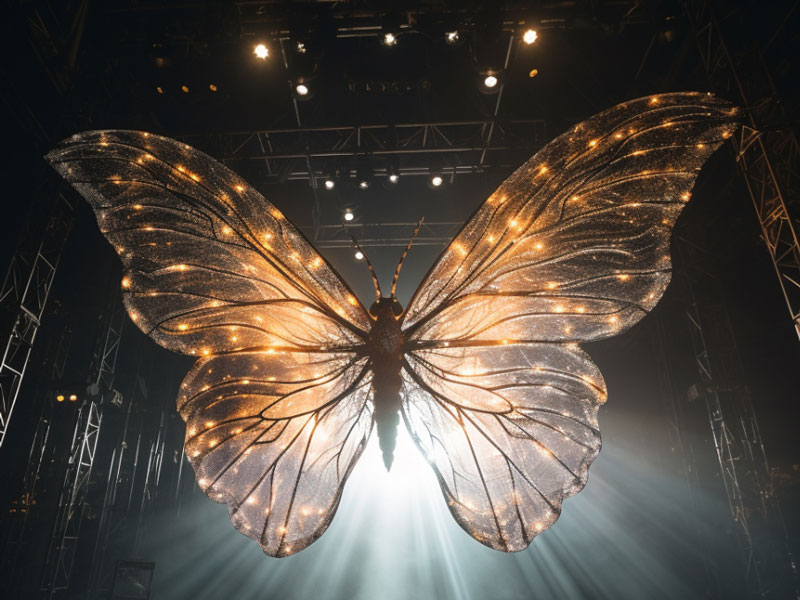 Attach or display contact information about the artist. Additionally, you can provide a table for them to meet guests before or after your event.
Butterfly Fairy Lights
Wrap string lights around tree branches or fences and attach butterfly-shaped cutouts to create a magical glow.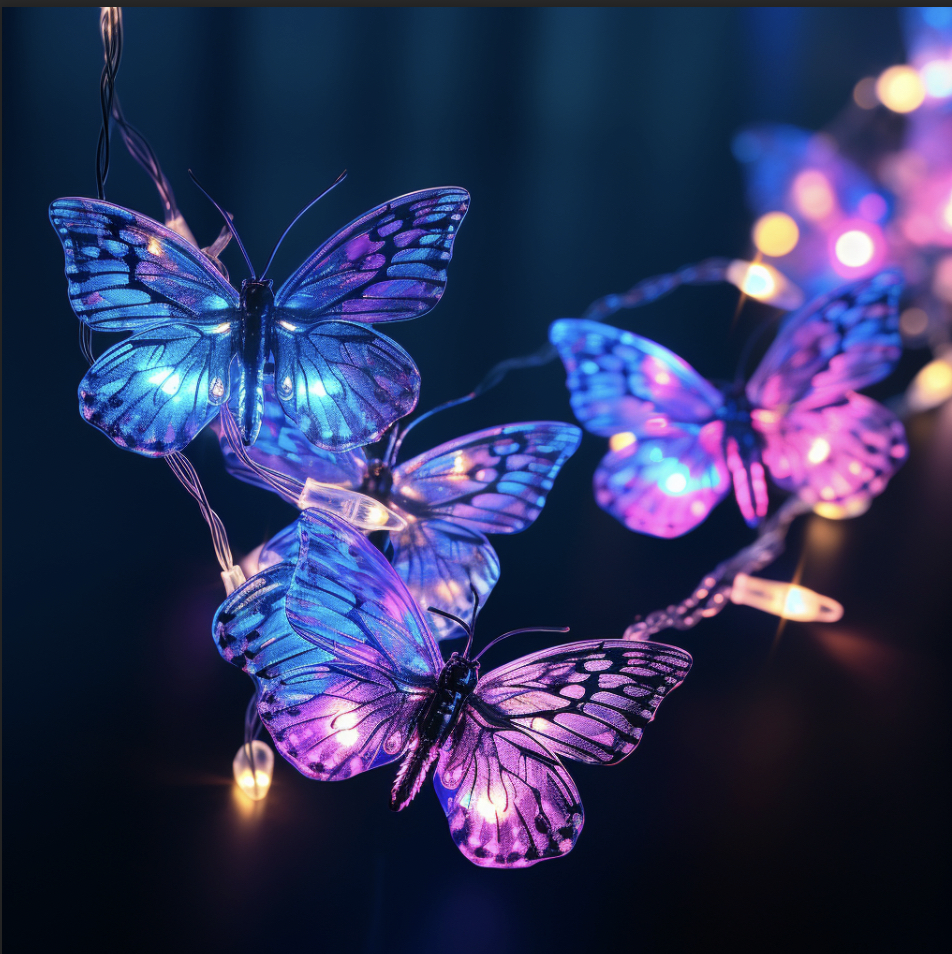 You can also ask your audio-visual team to use LED walls or Gobo lights to project butterflies on the walls at your venue. Almost anything can be displayed on these LED walls and Gobo lights can be custom made as well.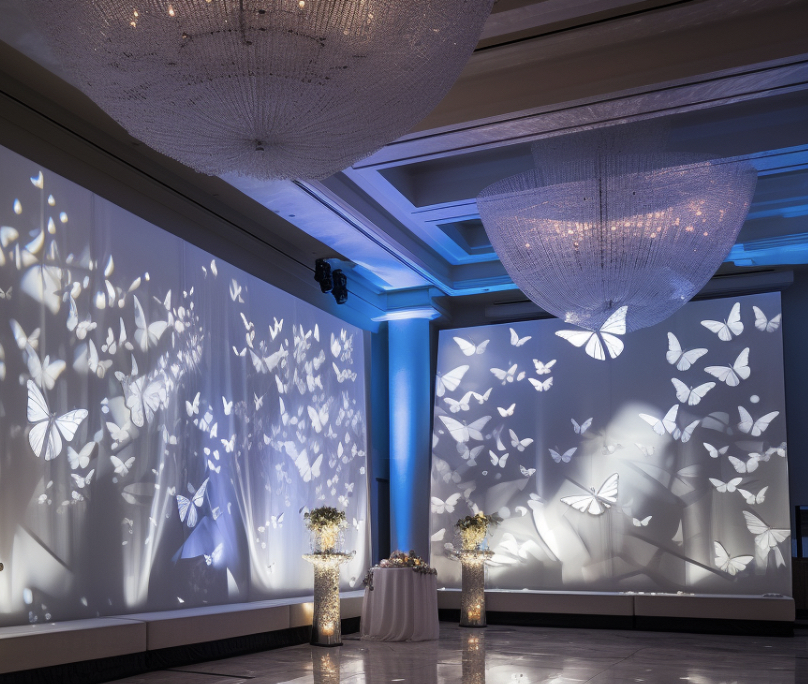 Fluttering Favors
Offer your guests favors, like small potted plants or seed packets that attract butterflies, enabling them to continue the theme at home. Another idea is to ask volunteers to make beautiful butterfly magnets or pins for guests.
Butterfly Garden Corner
Set up a mini butterfly garden area where attendees learn about butterfly-friendly plants and conservation efforts. Ask a local gardener or landscaper for assistance. Provide a table for them to meet guests before or after your event.
Butterfly Gratefulness Display
Using butterflies to display gratitude is a décor option that will attract your guests' attention. Create cutouts of butterflies like the ones below and ask guests to write things they are grateful for on them. Display the butterflies on a wall covered with beautiful flowers or greenery. Guests will enjoy reading the expressions of gratitude. You can also ask those you serve to write what they're grateful for on the butterflies and display them. Reading them will touch the hearts of your guests.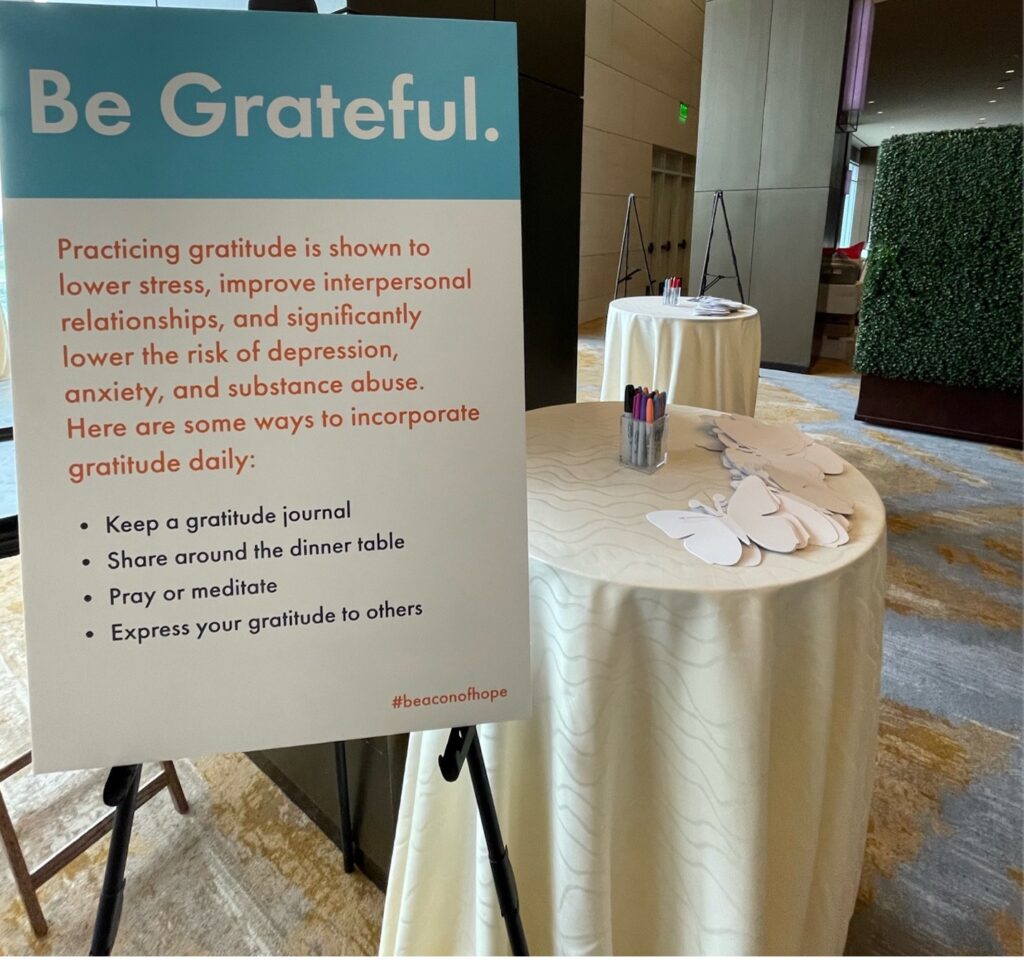 Butterfly Fundraiser Game Ideas
Games are great ways to raise extra money for your fundraiser because they capture guests' attention and add fun, excitement, and competition. Guests pay a fee to play the games. Here are some butterfly-theme fundraiser game ideas.
Butterfly Gift Card Pull Fundraiser Game
Display a variety of colorful butterflies at a table for guests. Guests pay $25 to pick a decorative butterfly with a number under its wing corresponding to an envelope containing a gift card. The guest receives the gift card in the envelope. To find out more about this fundraiser game, read our blog Butterfly Gift Card Pull Fundraising Idea.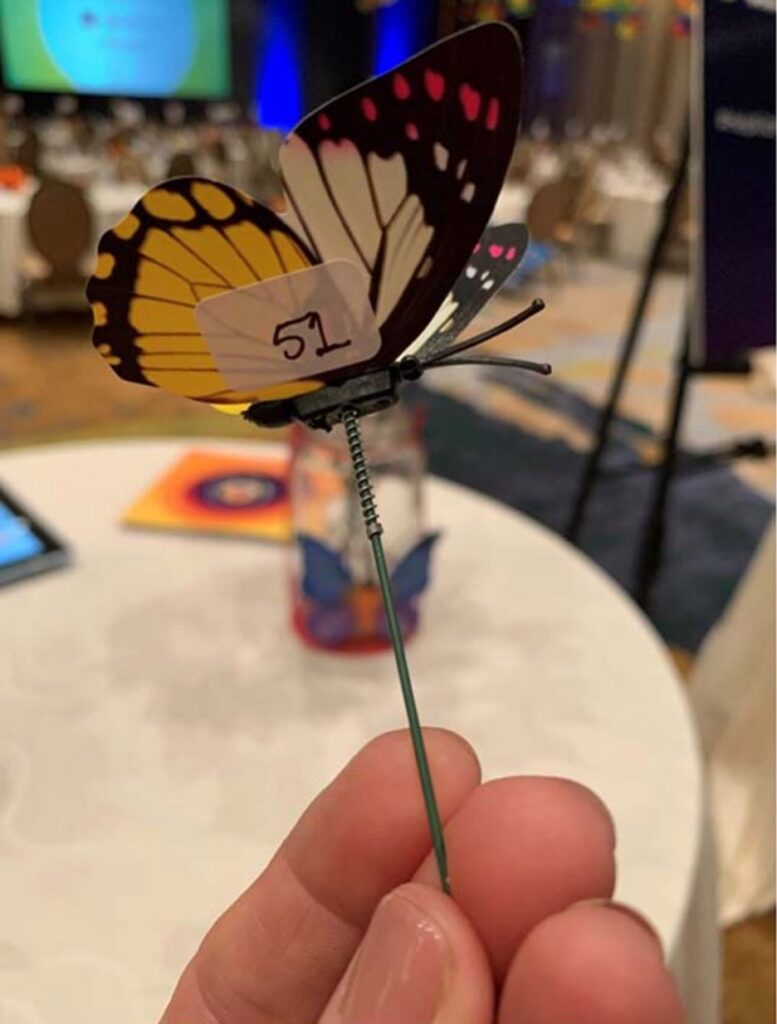 Butterfly Scavenger Hunt
Create a scavenger hunt where participants search for butterflies hidden on the silent auction tables, live auction display boards, tables, and other places throughout the venue. Guests pay to participate. The guest who finds the most butterflies wins a prize. Placing the butterflies in areas like the silent auction table will attract them to this area. While search for the hidden butterflies, they may see items they're interested in and bid.
Pin The Butterfly
Put a spin on the classic party game "Pin the Tail on the Donkey" by blindfolding participants and challenging them to pin a butterfly on a large flower on a mural or board.
Butterfly Bingo
Customize traditional bingo cards with various butterfly species or related images. Guests pay to play several rounds. The winners receive prizes.
Butterfly Art
Ask a local artist to donate butterfly art. Have guests bid on the art or scan QR codes to purchase the art. Invite artists to have a table in a particular area in the venue to display the art and to meet the guest before and after the event.
Butterfly Trivia
Test participants' knowledge of butterflies with a trivia game. Prepare a list of true or false butterfly-related trivia questions. Guests pay to play. Give participants paddles that have true on one side and false on the other side. The auctioneer or emcee reads the questions. Guests raise the true or false side of the paddle towards the emcee. If they answer correctly, they keep standing. The last person standing wins a prize.
Butterfly Wine Pull Ring Toss
Set up a wine pull ring toss game. Guests pay for chances to toss rings onto bottles of wine with colorful, decorative butterflies attached to the front of the bottles. They win the bottle of wine that they ring.
Butterfly Gift Card Balloon Pop
Inflate balloons and attach small paper butterflies to the strings. Guests pay to select a balloon. They pop the balloon and win the gift card written on the paper inside the balloon. This works best with an outdoor venue.
Butterfly Wings Contest
Organize a costume contest where attendees can showcase their most creative and imaginative butterfly-inspired outfits or butterfly wings. Award prizes for the 3 best costumes.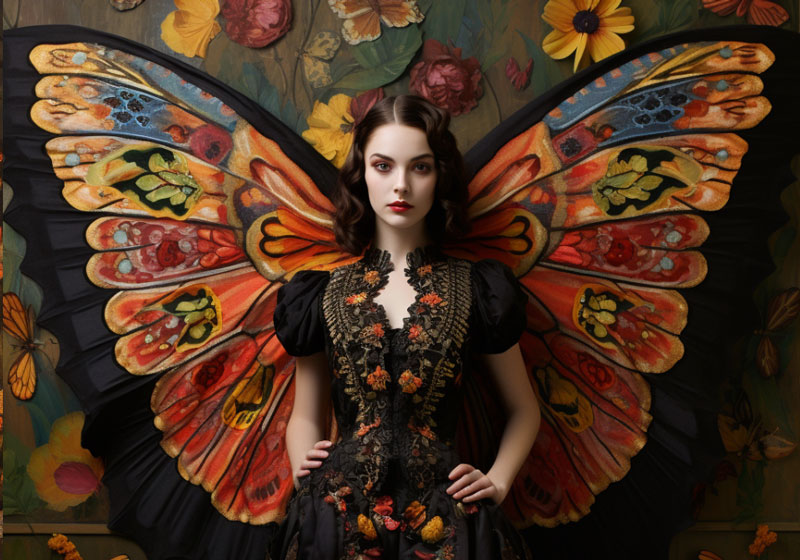 Butterfly Mask Contest
Host a butterfly mask contest. Ask guests to wear butterfly-inspired masks they designed or purchased. Award prizes for the top 3 butterfly masks.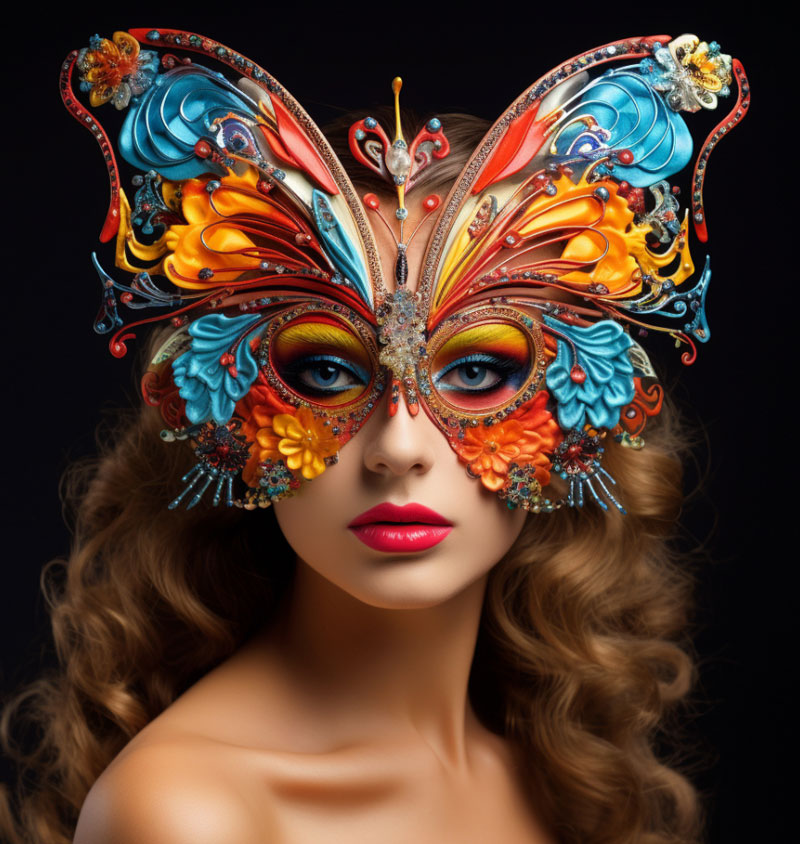 By following the tips outlined in this blog and incorporating creative decor ideas and engaging butterfly-themed games, you can create an enchanting event that leaves a lasting impression on all your guests.
For more fundraiser theme ideas, download our fundraiser theme ideas e-book.