How To Use Live Auction Bid Paddles To Improve Fundraiser Success
There are lots of creative ways to use live auction bid paddles to improve fundraiser success. They are an important part of the success of your live auction because they help your event run more smoothly in a variety of ways.
Bid paddles are typically used during the live auction. Your supporters raise their bid paddle to bid on items as the auctioneer asks for bids. Bid spotters see the bid paddle raised and recognize the bid.  After the bidder is announced the winner, they hold up their bid paddle to show the bid number, and the clerk records it. The sale can then be entered into the auction software and the guest's credit card is charged for the purchase.
Keep in mind that even though they are called bid paddles, they don't necessarily have to be paddles. Depending on how you use them, they can be reused several times.
Ideas To Use Bid Paddles More Effectively To Improve Fundraiser Success
You can get very creative with your bid paddles. You can create different shapes and sizes to go along with your event theme, like this red plastic feather bid paddle for the Red Feather Gala. This flip flop shaped paddle was used for a beach themed gala. You can order card stock bid paddles in different shapes as well.
It is very important that you use very large, dark black numbers on the bid paddles, at least 190 or larger font size. This will make it easier for your auctioneer and bid spotters to see the bid numbers, especially in a large crowd.
Bid paddles need to be made with thick paper to make them as sturdy as possible. This helps make sure that when guests hold up their paddles, they are straight, and the numbers can easily be seen.
The following are several creative ways to use bid paddles to improve fundraiser success by helping your live auction flow smoothly and simplify sharing fundraiser information with your guests.
Use Bid Paddles To Showcase Sponsors
Showcase your live auction sponsors and your other sponsors by including their logos on the bid paddles.
Another great idea is to include a tear off coupon for a restaurant, service, or product from your sponsor on the bottom of the bid paddle. You can also add sponsor's business card at the bottom of the paddles for guests to tear off and keep. See Campisi's bid paddle above.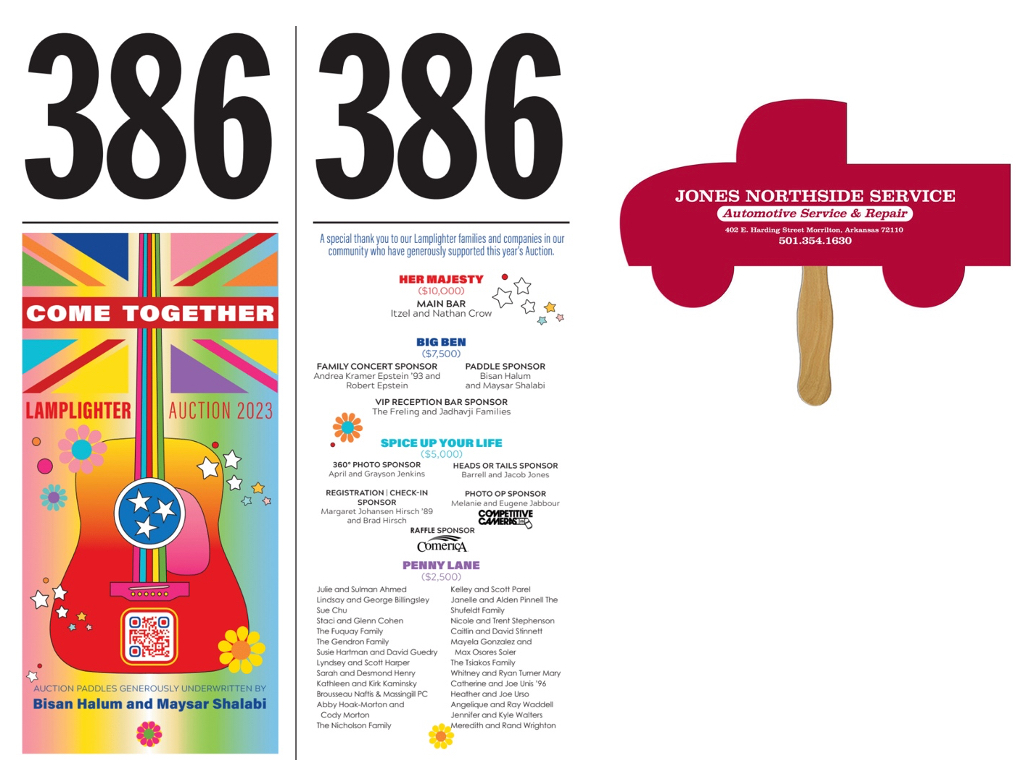 Use Bid Paddles To Simplify Selling Fundraiser Games And Items
Adding tear offs at the bottom of the bid paddles will simplify selling fundraiser games and items. Guests just tear off the tabs and give them to volunteers or auction support staff so they can enter the sales into your event management software.  This will make the process super easy for your supporters.
Use Bid Paddles To Display Live Auction Information
Bid pads can be used to put live auction information at guests' fingertips. Include the live auction items and brief descriptions on the back of the bid paddle.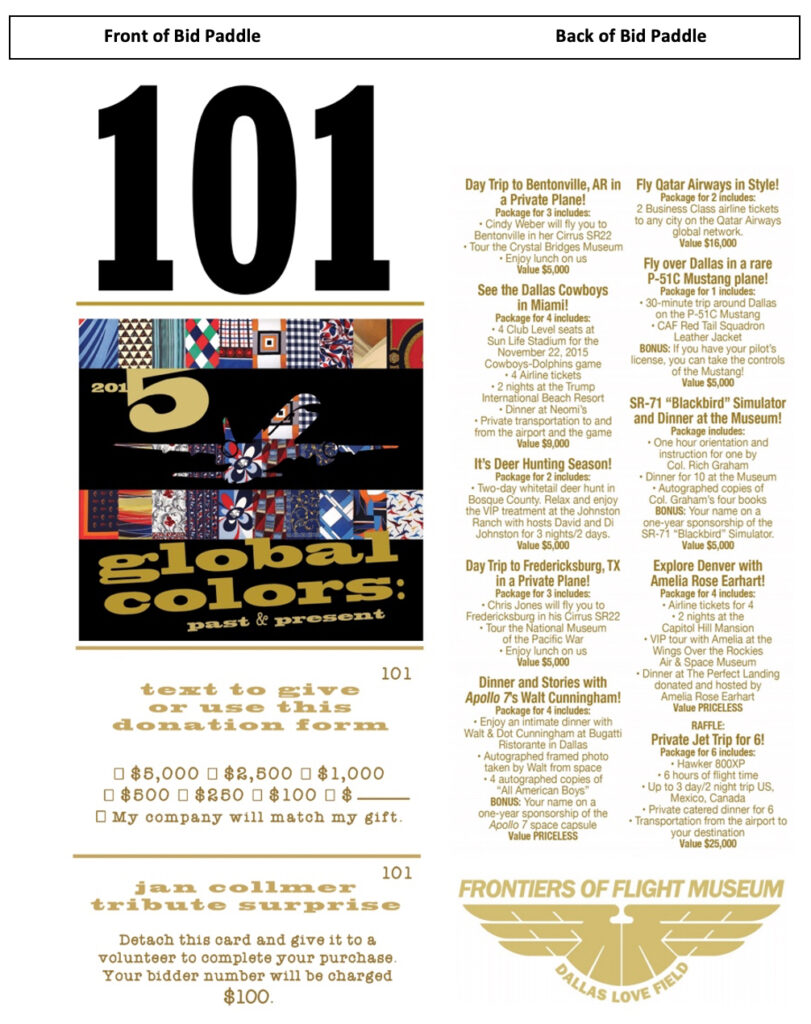 Another idea is to make the bid paddle into a program that includes a list of live auction items, list of sponsors, and the timeline for the event.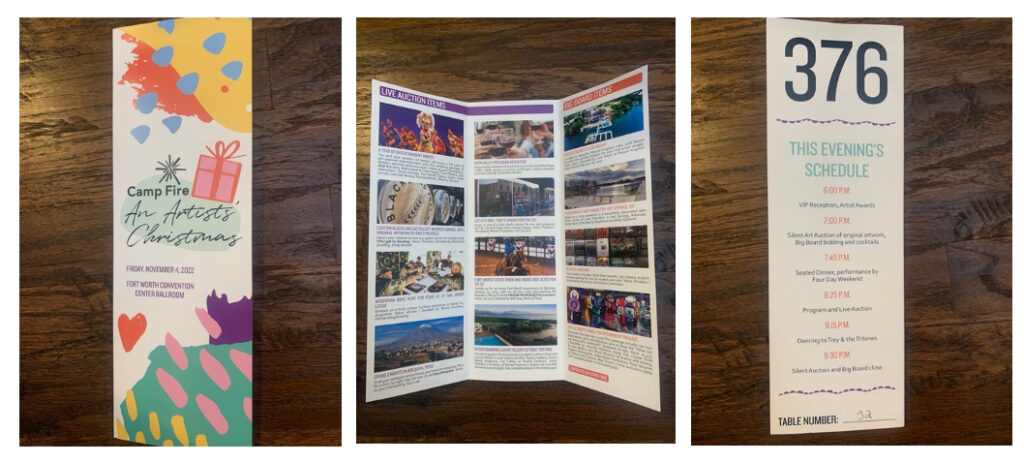 Use Bid Paddles To Get More Donations
Use bid paddles to accept donations during fundraiser by including a tear off donation card. When the auctioneer asks for donations, supporters can raise their bid paddles or simply mark the amount they want to donate, tear off the bottom of the bid paddle, and give it to a volunteer. Include this simple line on the tear off card: My company will match my donation. When the guest checks this box, an additional donation will be given by their employer. This is a great way to increase profits.
Use Bid Paddles To Simplify Check In
Maximize the use of bid paddles at check in. As guests check in for the fundraiser, give them an envelope that has everything they need for the event inside, including bid paddle, raffle tickets, drink tickets, the timeline, and list of live auction items. Include the name of the bid paddle sponsor on the front of the paddles for great exposure.
To make it easy for guests to find their seats, include a line to add guests' names and table numbers on the bid paddles. Volunteers add the names and table numbers on the paddles when guests check in.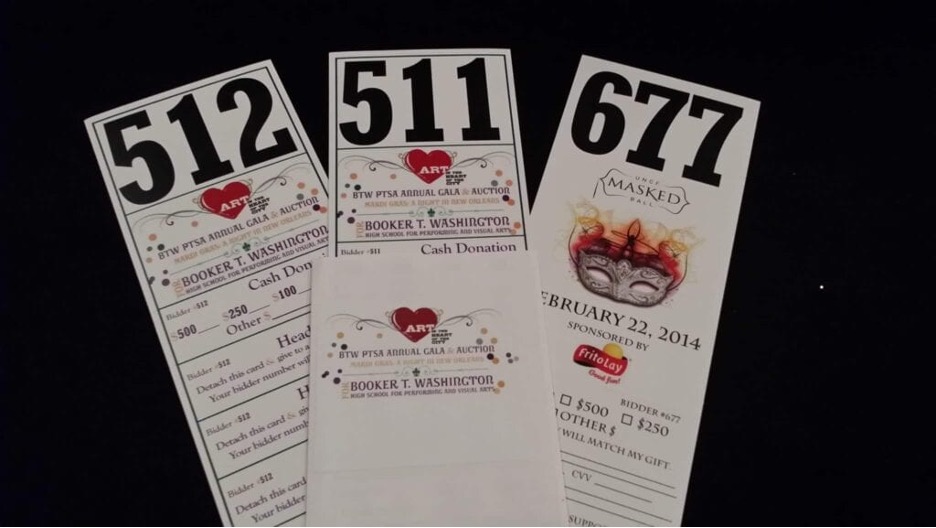 Use Bid Paddles To Show The Importance Of Your Mission
Include information on the back about what their donation can accomplish. It's important to let your donors know why you are raising money and the importance of your mission.
Incorporate Your Bid Paddles Into Your Fundraiser Theme Or To Convey Your Mission
Be creative and make bid paddles that correspond with your theme. For example, create bid paddles in shapes that go with your theme. For a butterfly theme, use paddles that are shaped like butterflies.
For golf or clay shoot events, you can use a lanyard with all the items worn around guests' necks. This works great for a ski or winter themed event because it resembles a lift ticket.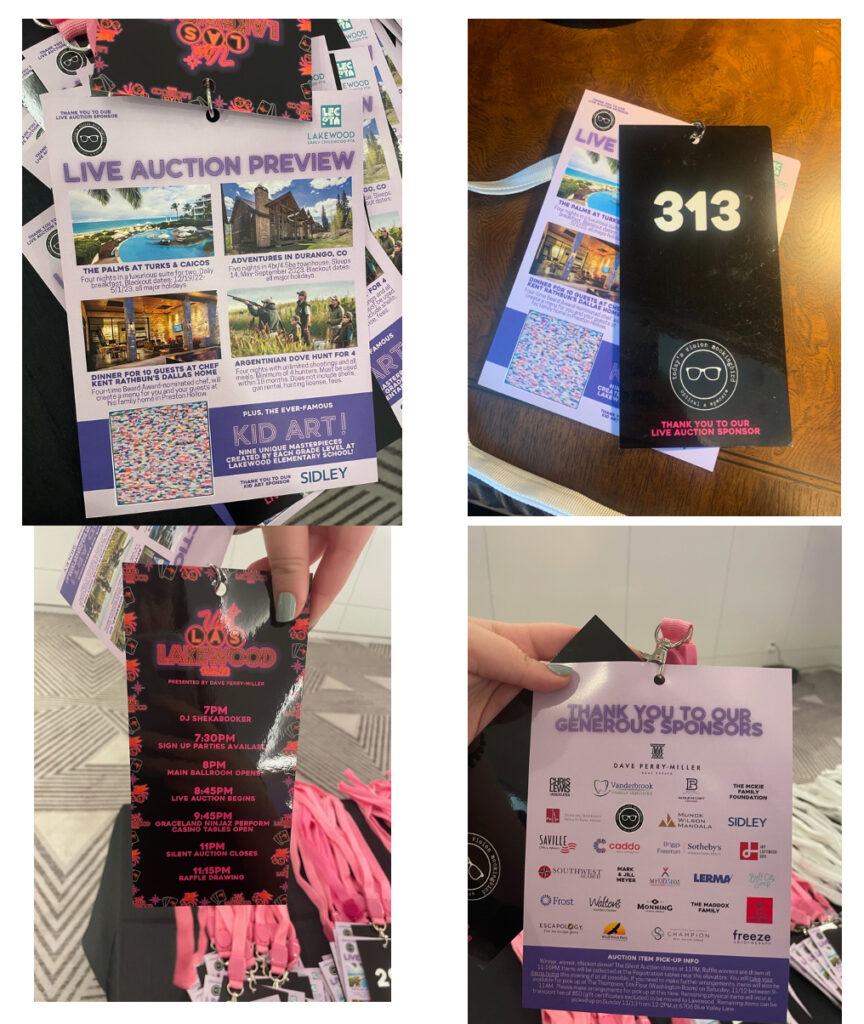 If you have questions or need assistance planning your fundraiser, Murad Auctions is here to help. Contact us at 972-238-0249 x 102 or contact us. You can also schedule a free consultation at https://calendly.com/clairemurad. We will be happy to help make your non-profit fundraiser a success.
About Murad Auctions
Murad Auctions offers professional charity auction services to non-profits for successful benefit auction events. Since 2000, Murad Auctions has helped hundreds of non-profits achieve their fundraising goals. Murad Auctions relies on years of experience, crowd-pleasing enthusiasm, and technology to take benefit auctions to the next level.