Fundraiser Games And Wine Pull Ideas
In this blog, we will share successful fundraiser games and wine pull ideas that some of our clients used in their fundraising events. Feel free to use these ideas or create your own games based on these examples.
Fundraiser Games With Farm Animal Themes
Ham it up at your next fundraiser by including fundraiser games with pig or other farm animal themes. These types of games are fun and entertaining and are perfect for western or farm-themed fundraisers.
Our client Farmstead Museum used this first fundraiser game at a recent fundraising event.
Pigs were the focus of this game. Guests loved it, and it attracted a lot of attention. The more your guests enjoy the activity, the more likely they will spend money to play.
Pick A Pig Gift Card Pull Fundraiser Game
In this fundraiser game, guests pay $15 to pull one numbered plastic pig from a trough or $25 to pull two pigs. The numbers on the pigs correspond to envelopes containing a gift card valued at $25 or more from various restaurants and retailers. As you can see in the first photo above, not all the pigs at the fundraiser were plastic. Here are more photos from the event:
Donkey Wine Pull Fundraiser Game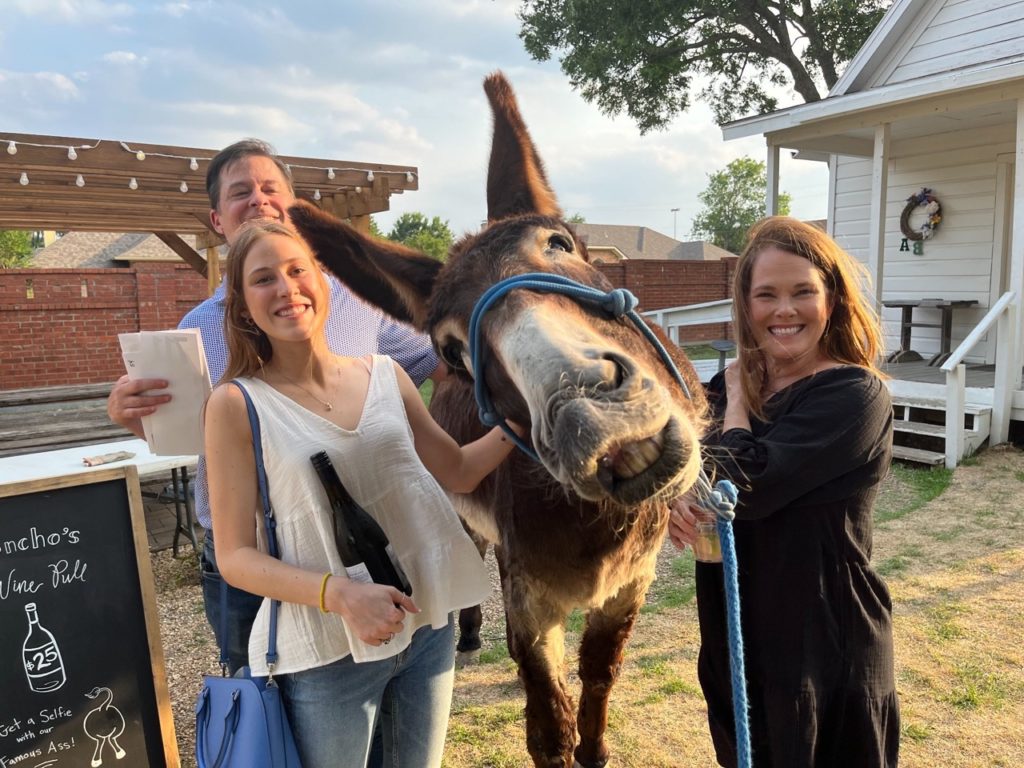 Poncho the donkey was the star of this wine pull. To play the game, guests usually pull wine from a specially designed saddle bag that Poncho wears. Because Poncho was being a bit ornery at the event, it had to be played a bit differently to avoid him breaking any of the wine bottles. Since Poncho was benched from his usual role, guests pulled the wine from a saddle bag at the check-in area. Poncho wasn't left out completely. Instead, he was a camera hog when guests took photos with him.
A donkey wine pull is a creative variation of the typical wine pull.
If you are unfamiliar with how to play or host this this popular fundraiser game, check out our wine pull e-book and the following:
Fundraiser Games Blogs
Try This Type Of Wine Pull Fundraiser At Your Next Event
Six Types of Wine Pull Fundraisers
How To Get Wine Donated For A Wine Pull Fundraiser
How to Use Playing Cards or a Spinning Wheel in a Wine Pull Fundraiser
Fundraiser Games Videos
Horseshoe Wine Pull Fundraiser
Wine Pull Wine Glass Fundraiser
How To Get Wine Donated For A Wine Pull
How to Get Wine Donated For Wine Pull Part 2
Chicken Poop Bingo Fundraiser
We're Here To Help With Your Fundraiser
If you have questions or need help planning your fundraising event, we're here to help. We offer a free consultation for nonprofits. Just go to https://calendly.com/clairemurad. We would love to share our fundraiser expertise to help you plan a successful and profitable fundraising event.
You can also contact us by going to our contact page.