Fundraiser Games For Country Western Theme Fundraisers
This blog shares numerous creative fundraiser games to boost profits for a country western, cowboy, or farm theme fundraising event. Fundraiser games are popular because they add fun, excitement, and help increase fundraiser profits. This is part two of our blog series about how to successfully host these types of fundraisers. Click here to read part one–Country Western Fundraiser Theme Ideas.
Costume Contest
Try a costume contest for a western theme fundraiser, which is popular because it adds competition, excitement, and mystery to your fundraiser.
Here are the steps:
Let your guests know in advance about the contest and encourage them to participate.
Decide what type of contest, such as best cowboy hat or best western costume. The costumes can be typical western wear or denim and diamonds, Western Bling or any other creative theme.
Sell chances to vote for the best costume at a set price. This can be easily managed through our mobile bidding software. Votes can be purchased by guests on their cell phones. Find out more here
Guests vote for the best costume.
Award the winner or top 3 contestants prizes.
Another idea is a western dance contest. Be creative to make the game entertaining and unique.
Sell Your Centerpieces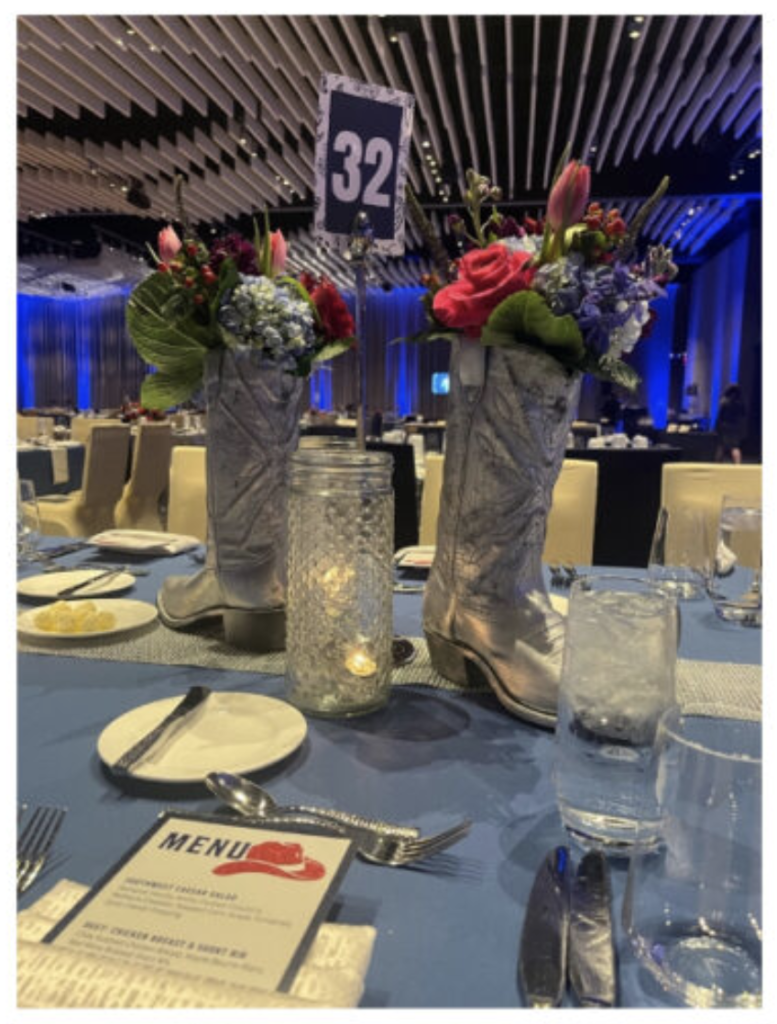 Selling centerpieces is another source of supplemental income for your fundraiser. Usually centerpieces are a fundraiser expense, but they can be sold or auctioned during your event. Unique centerpieces make your tables festive and capture guests' interest, and they can purchase for home or office décor.
Ask volunteers to create country western centerpieces. Here are some ideas for the centerpieces:
Sunflowers and/or other rustic flowers in a unique, rustic vase
Cactus or other succulents in a rustic vase
Cowboy hats or colorful cowboy boots as vases, with rustic flowers inside a hidden vase
Rustic lantern with battery-operated candles inside.
Country western battery-operated lighted signs or displays.
Wreaths decorated with rustic flowers, interesting belt buckles, or horseshoes.
Rope glued around a flower vase or container with rustic flowers.
Fundraiser Games With Farm Animals
Country Western fundraisers that include farm animals are entertaining and fun for guests. They are more likely to pay to participate because they attract a lot of attention.
Pick A Pig Gift Card Pull Fundraiser Game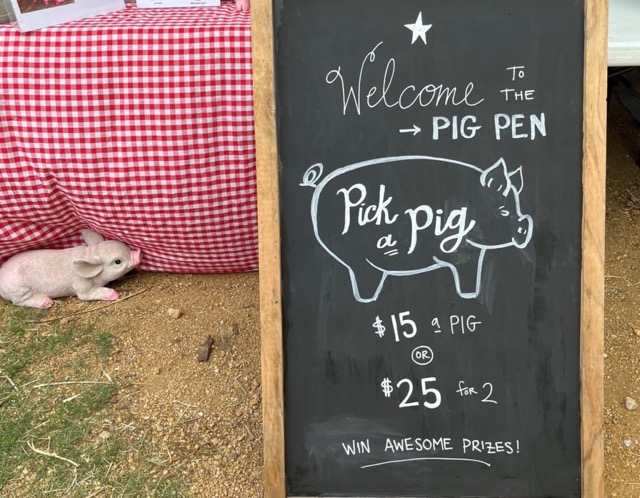 In the Pick A Pig gift card pull fundraiser game, guests pay $15 to pull one numbered plastic pig from a trough or $25 to pull two pigs. The numbers on the pigs correspond to envelopes containing a restaurant or retail gift card for $25 or more. If you want to be consistent with the theme, some or all restaurant gift cards can be for steak or barbecue restaurants. The retail cards can be for country western stores.
Another fun idea is to include a real pig in the fundraiser, especially at an outdoor venue.
A variation of this game is Pick A Duck.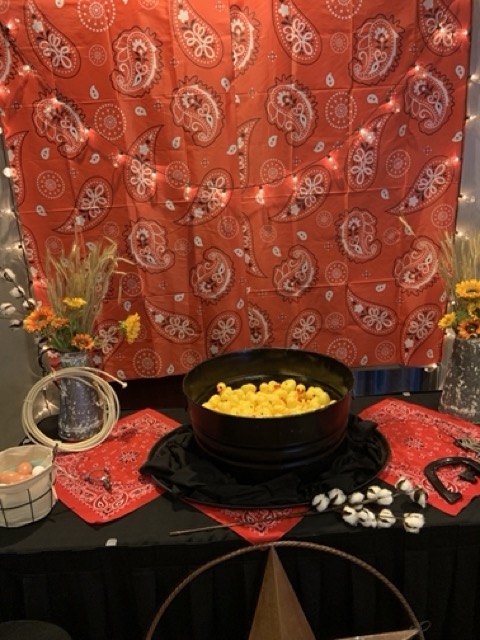 To see more photos and all the details about this game, read our blog
Chicken Poop Bingo Fundraiser Game
Chicken Poop Bingo is funny game that is perfect for any western or farm theme fundraiser held at an outdoor venue. Guests love this game because it's entertaining and unpredictable. Some other names for this game include:
Rooster Riot
Brooder Brawl
Poulette Roulette
Chicken Scratch
Wild Wattle
The Scrambler
The Dusting
Farm Frenzy
To play the game, guests purchase a square on the Chicken Poop Bingo board for $5, $10 or $20 for 5 squares.
Chicken feed is sprinkled on the giant bingo board inside a chicken coop. A chicken is placed in the cage. It eats the feed and searches the cage seeking the perfect square to poop on. Guests cheer, hoping the chicken will choose their square. After the chicken poops, the guest who has the winning square for that round receives a prize.
To see more photos and for more details about everything you need to know about this game, read our blog Fundraising Idea: Chicken Poop Bingo
Wine Pull Fundraiser Games For Country Western Or Cowboy Theme Fundraisers
Wine pull fundraisers are always popular fundraiser games and there are several variations of the game. If you are not familiar with a wine pull, read this blog, watch this wine pull video, and download our wine pull e-book that has all the details about a wine pull fundraiser game.
Donkey Wine Pull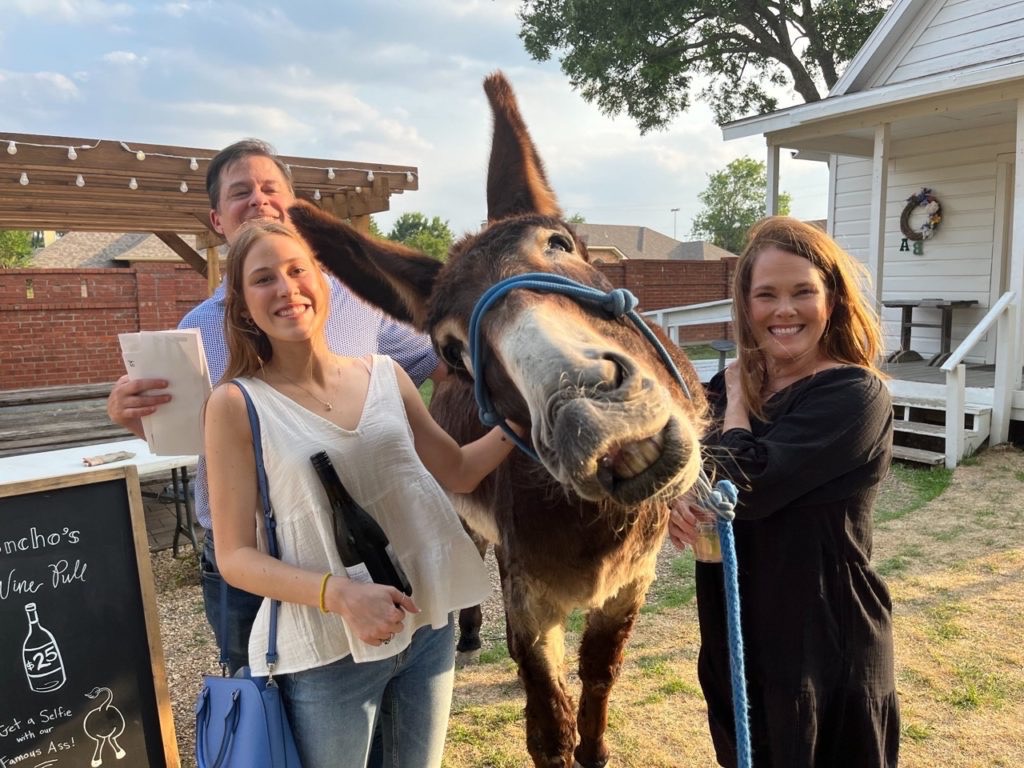 A donkey wine pull is a creative variation of the typical wine pull game.
To play, guests pay a set price to pull wine from a specially designed saddle bag that the donkey wears. Sometimes donkeys can be ornery at the event. If this happens, ask guests to pull wine from a saddle bag that is draped over a saw horse or railing instead. Even if the donkey doesn't cooperate during the game, he still has the important role of camera hog after the game. Guests will love the opportunity to take funny photos with him after they make their purchase.
To see more photos and for more details, read our donkey wine pull blog.
Horseshoe Toss Wine Pull Game
A horseshoe wine pull is another type of wine pull fundraiser game that goes great with a country western theme. In this game, guests pay $25 for a chance to win a bottle of wine or other liquor by tossing a plastic horseshoe at several bottles displayed on a table. They win the bottle that is ringed. Watch our Horseshoe Toss Wine And Liquor Fundraiser video for more details.
Cowboy Wine Pull Game
A cowboy wine pull is another game that goes well with this theme. In this game, guests pay a set price to pick a cowboy hat that is displayed on a decorative wall or table. Each hat has a number inside that corresponds with a bottle of wine. Guests win the bottle of wine that matches the number inside the hat.
Dead or Alive Fundraiser Game
The Dead Or Alive fundraiser game tests guests' knowledge of country singers and country western actors.
Guests pay $25 or $50 to play. They are given a red and a green card. To play, project photos of country singers or country western actors on the screen. When the photos are on the screen, the auctioneer asks guests if they think the person is dead or alive. Guests hold up a green card if they think the singer or actor is alive or a red card if they think the person is dead. If they guess correctly, they stay in the game. If they guess incorrectly, they sit down and are out of the game. The last person standing is the winner and wins the prize. Make sure you have enough photos for numerous rounds to avoid running out of photos. If this does happen, make sure you have a plan on how to handle a tie breaker. For more information about the Dead Or Alive fundraiser game, watch our video.
Gift Card Pull
Set up a display of cowboy hats or horseshoes and number them. Guests pay $25 for a chance to pick one, which corresponds to a numbered restaurant or retail gift card. They win the gift card that matches the number on the hat or horseshoe. Some or all the restaurant gift cards can be for steak or barbecue restaurants. The retail cards be for country western stores.
Other Ways To Supplement Fundraiser Income
Pop Up Shop Fundraisers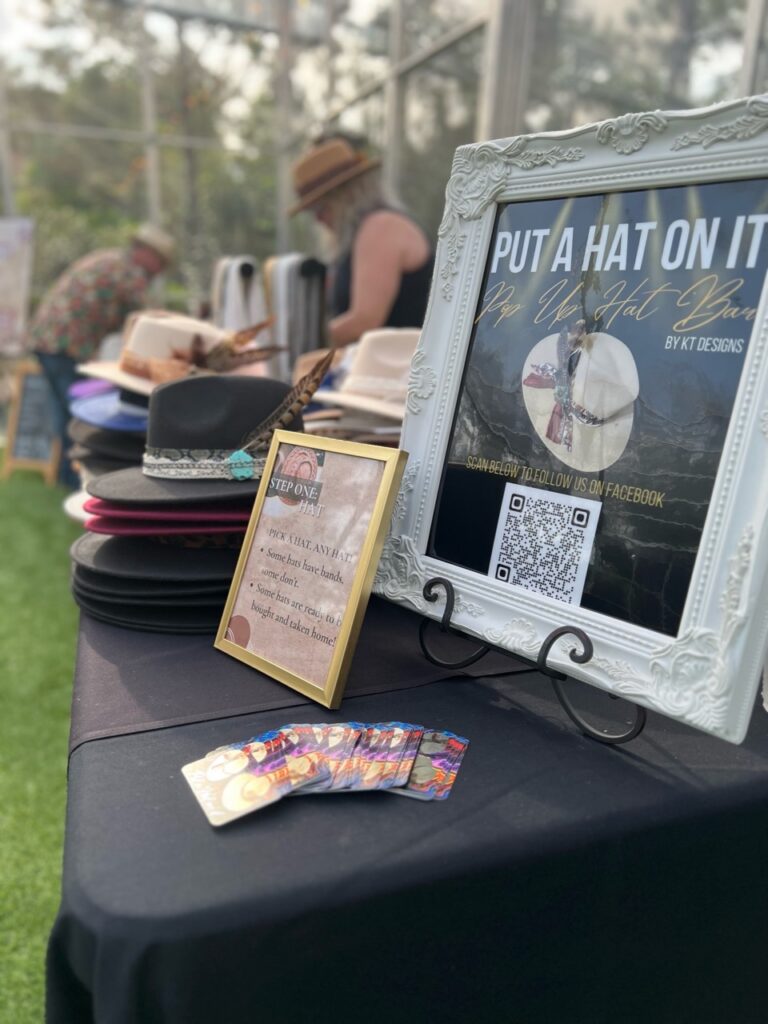 Supplemental fundraiser income doesn't always have to come from fundraiser games. They can also come from pop up shops. Ask local country western retailers to set up pop up shops, such as a cowboy hat bar, at your fundraiser. Decide what percentage of the sales your organization will receive as a donation. Guests will enjoy shopping before the fundraiser.
Mechanical Bull or Bucking Bronco Fundraiser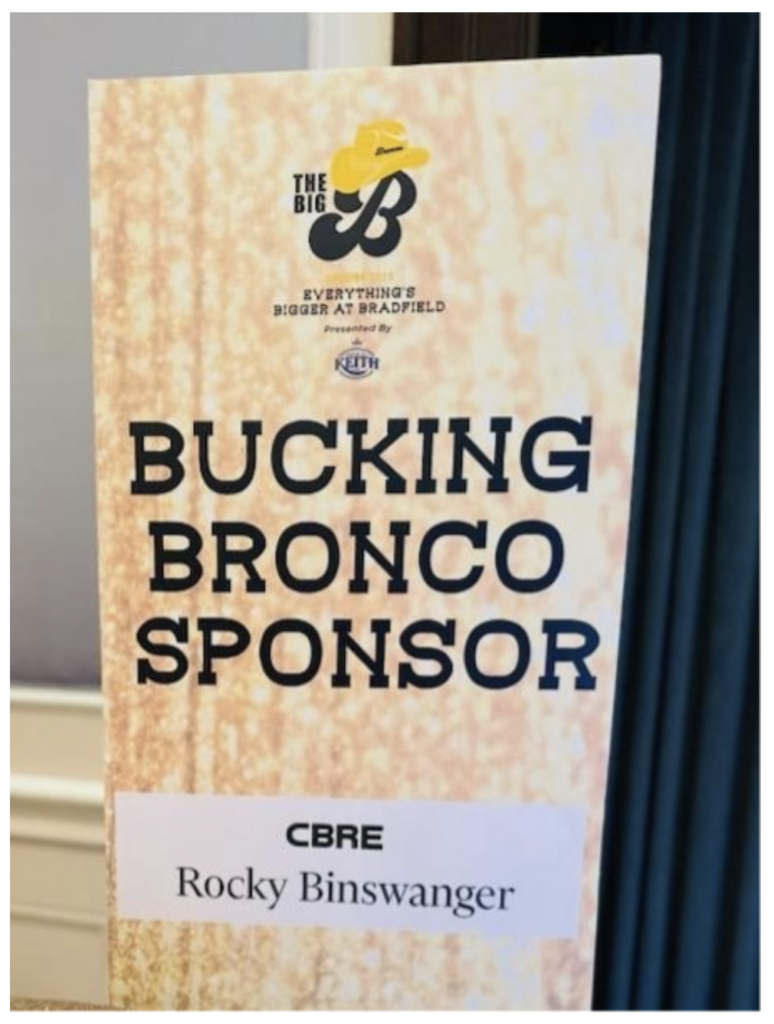 Some of our clients have had a mechanical bull at their fundraisers. This is another supplemental income source that guests enjoy. You can set it up two ways. Guests pay a set fee for a chance to ride the bull. You can also have guests pay a set fee to participate in a bull riding contest. The person that rides the bull the longest receives a prize.
Jail Game
Guests pay to have someone put in jail for a set amount of time. Other guests can pay to have them released on "bail"!
No-Risk Live Auction Packages
Including no-risk live auction packages that correspond to your fundraiser theme is a great way to boost your fundraiser sales. You can offer these consignment packages and you don't have to pay for them unless they sell.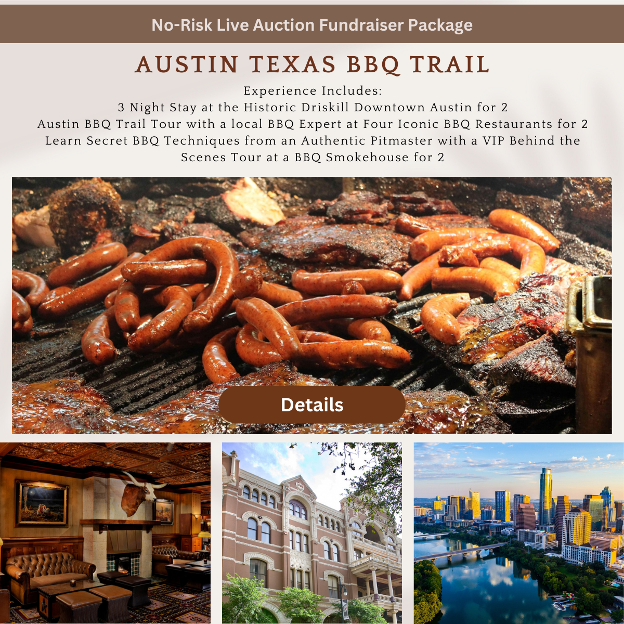 There are numerous great packages available to choose from if you prefer to offer packages that aren't related to your fundraiser theme. Browse our no-risk live auction packages.
About Murad Auctions
Murad Auctions offers professional charity auction services to non-profits for successful benefit auction events. Since 2000, Murad Auctions has helped hundreds of non-profits achieve their fundraising goals. Murad Auctions relies on years of experience, crowd-pleasing enthusiasm, and technology to take benefit auctions to the next level.